Are you looking for some top-quality, organic pads? Then these ones from Natracare should be at the top of your list. Read our buying guide packed with information to help you decide if they're the right feminine hygiene option for you.
Natracare Natural Ultra Pads with Wings Review
Natracare Natural Ultra Pads with Wings make an excellent choice for the environmentally-friendly and health conscious woman for the following reasons:
They're perfect for women with sensitive skin because they're chlorine, fragrance and chemical free. Compare this to regular menstrual pads that contain lots of harmful chemicals from non-organic cotton as well as chemicals used during the manufacturing process.
Natracare Natural Pads are free of plastic and are totally biodegradable. This makes them an excellent choice for the environment. Plastic waste will still be hanging around the landfill in hundreds of years from now. These pads? Just a few.
They're made in Sweden from a trusted name in natural living so they truly are a product you can trust.
They also make a range of absorbency levels, from panty liners to heavy, overnight ones.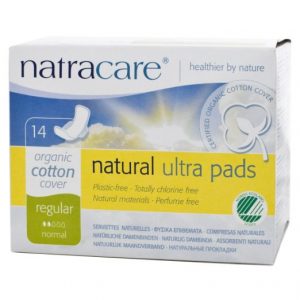 You can easily get the Natracare Natural Ultra Pads with Wings on Amazon today:

People that Like the Natracare Natural Ultra Pads are Saying: 
"These pads are great for people with sensitive skin. They're not made from plastic, and they don't have toxic chemicals which makes them very breathable and hypo-allergenic. Overall, I'm very happy with them."
"I used to use Always pads, but I didn't like the chemicals and plastic in them. Chlorine bleached pads: scary stuff and I'm never going back to conventional sanitary products! I thought about reusable pads, but I didn't like the idea of washing cloth menstrual pads. For a light or medium flow, the regulars are great."
"The price is very reasonable because of buying them in bulk. I love having a healthier, safer alternative to regular sanitary napkins that are filled with all kinds of toxins. Trying to go green, and starting small with changes like this one. The panty liners are thin and comfortable, and the heavier pads are quite absorbent."
Natracare Pads Pros:
Natracare is one of the top brands in the market
Made in Sweden
Great for the environment
Excellent for those with sensitive skin
Cheap price-buy in bulk!
Perfect for those with a light to medium flow. Not too big, but still offers enough protection
Made from certified organic cotton
Plastic free, compostable and made natural materials
Natracare Pads and Tampons Review
Besides pads, Natracare also makes some nice organic tampons. You can learn more about all the options in this short video below:
Natracare Natural Ultra Pads with Wings Cons: 
They are not suitable for people with a heavy flow. However, you could consider using these in combination with a menstrual cup (I like the Diva Cup, Moon Cup or Lunette Cups) for those heavy flow days. The pad can serve as a back-up.
The adhesive on the wings and the actual pad isn't that great and can come lose quite easily.
Can fold and cause chafing for some people.
Compare Organic Disposable Pads
Besides these ones from Natracare, there are plenty of other options out there as well. You can check out some of the top picks, along with prices in this handy comparison chart below:
The Takeaway on the Natracare Natural Ultra Pads with Wings: 
Overall, the Natracare Natural Ultra Pads with Wings are an excellent product that is manufactured in Sweden. They are suitable for people looking for an environmentally friendly alternative to traditional pads. These ones fit the bill, being chlorine free and made entirely without plastic.
Fully Biodegradable
They will fully biodegrade in the landfill so it's a product you can feel good about using. They also make the perfect choice for people with sensitive skin as they are chemical and fragrance free so they shouldn't cause any reactions on your lady bits.
Too Short and Small (For Some Women)
The only real negative to this product is that they are quite short and small. This makes them unsuitable for those heavy-flow days, or just generally for people who have above-average menstrual flows. They do however make an excellent choice for days with spotting.
Reduce your Exposure to Toxic Chemicals
It just makes sense to make the switch to organic. After all, these products are right next to your skin, for up to a week each month for decades.
Regular pads sometimes contain toxins in them that aren't good for your body. Part of the problem is that nobody really knows what's in them because in most countries, manufacturers aren't required to disclose what's in these products. Scary stuff, right?
Shop Now
Buy the Natracare Natural Ultra Pads with Wings on Amazon Today, and choose the best option for your health. Check now for the lowest prices on women's health products:

Have your Say about Natracare Ultra Pads
What are your thoughts about these top-quality, natural sanitary pads? Leave a comment below and let us know what you think.
Also be sure to give this article a share on Facebook, Twitter, or Pinterest.
Last update on 2021-04-17 / Affiliate links / Images from Amazon Product Advertising API