Do you want an extra layer of protection during your period to prevent embarrassing leaks, or stains? Then check out Period Panteez Leak Resistant menstrual underwear. Read on for our full review of this popular product.
Period Panteez Female Protective Leak-Resistant Menstrual Underwear
Amazingly soft, comfortable, breathable, leak-resistant, multi-layered, machine washable,...
Provides maximum coverage and support, protecting clothing, sheets and mattresses; Provides ultimate...
Helps prevent displacement of a sanitary pad; Contains a natural, built-in padded layer for...
For all menstruating females; In sizes XXS - XL; 30 day Money-Back Guarantee
Proudly designed and manufactured in the USA, using fine quality, hand-picked fabrics
Period Panteez Leak Resistant Underwear Introduction
If you're looking for an extra layer of protection during your period, you'll want to consider Period Panteez. They are a popular brand of menstrual panties.
Here are a few quick facts:
Affordably priced when compared to their competitors (Thinx, or Party in my Pants)
Period Panteez are leak resistant
Very comfortable (according to user reviews on Amazon)
Breathable
Wide range of sizes
Made in the USA
30-day money-back guarantee
The dark colour makes them easy to clean
Should be used in combination with a menstrual cup or tampon
Eco-friendly when compared to disposable pad or pantyliners
On our list of the Top 5 Period Panties
It can be difficult to find Period Panteez in stores, which is why we recommend shopping online. If you want an extra layer of protection to help prevent embarrassing leaks, then you'll need these top-rated Period Panties:
Period Panteez Menstrual Underwear Review
Has heavy bleeding always been your problem every time you have your period? Surely, this affects your mood (and your life) every time. Leaks and stains on your favourite pair of pants or skirt can be a problem too!
Or, waking up to wet, stained sheets and a ton of laundry.We've all been there. It sucks, big-time. It's actually one of the worst things about getting your period, apart from menstrual cramps, perhaps?
Period Panteez, or other period underwear brands are a nice period solution. They are designed to add an extra layer of protection to prevent embarrassing leaks. Pair leakproof period panties with a pad, tampon or period cup for serious absorbency.
Try out Period Panteez for yourself to see the difference. People who try these period panties really love them. They're made in the USA, unlike many of the other affordable period panty options that are made in China.
Where Can I Get Them?
Keep on reading for our full review of Period Panteez Leak Resistant Underwear, or check them out for yourself on Amazon. Click the button below to find the best prices, and also don't forget to see if this product is eligible for fast, free shipping with a Prime membership:

Consider Using Period Underwear
Fortunately, many period products have been invented to address these common menstrual-related issues. Among these are the period panties, or menstrual panties.
These are special sets of underwear usually designed with extraordinary materials for the wearer not to experience any inconvenience and discomfort. Isn't it stressful and embarrassing when people see a big red spot in your skirt, shorts or pants? You can avoid it by using period panties.
Period Panteez have a leak resistant layer in them that helps to prevent staining of bedsheets and clothes.
Are Period Panteez Only for Periods?
There are a range of uses for Period Panteez beyond just periods. Some of them include the following:
Vaginal Discharge
If you have vaginal discharge, then you'll love using period panties instead of pantyliners. Not only is it way better for the environment to make the switch to a reusable product, but they're also more comfortable.
Light Incontinence
For light incontinence issues, consider using Period Panteez instead of pads, or other forms of protection.
It will be cheaper, and way better for the environment over the medium to long-term. Trust us. Your bank account will thank us!
Quiz note: Period Panteez are not absorbent, so if you have anything more than light incontinence, you'll need a more absorbent option.
Spotting
For spotting, Period Panteez can be the ideal solution instead of using pantyliners all the time.
Periodpanteez for Post Partum
Finally, Period Panteez can help to prevent embarrassing leaks post-partum. Plus, the squeeze everything in and will help you to feel good about your body.
Shop Now for these Menstrual Underwear
Sounds great, right? They are. You can check them out for yourself over on Amazon:

Use Periodpanteez in Combination with Tampons or a Menstrual Cup
Period panties are not really absorbent enough to offer serious protection on all but the lightest of days. They are designed to be used in combination with a tampon or menstrual cup.
Both of these things can leak a little bit. A tampon leaks if you don't change it quick enough, and a cup can leak when you're just figuring out how to insert it correctly.
Or, have a look at some of our top picks here:
An Affordable Option for Menstrual Panties
Period Panteez  are one of the more affordable pairs you can find over on Amazon. This is especially true when you consider the medium to long-term.
Period panteez can replace menstrual pads. This is especially true when paired with an internal product. The average price of a box of pads is $5. You likely use an entire box every single month. This really adds up, particularly if you have a heavy and/or long flow.
Or, you can buy a couple pairs of Period Panteez. This can potentially replace a number of pads, saving you money over the long-term. A lot of it actually.
We also LOVE the dark colours of these period underwear. No more stained regular underwear! Just wear Period Panteez and stop throwing away your regular underwear due to staining from your period.
Check prices on Period Panteez Leak Resistant Menstrual Panties. You can also get more info about them here:
Eco-Friendly Period Panteez
If there's one thing you'll love about this period panty, it's its eco-friendliness. This underwear does not have any chemical content so even if you have sensitive skin, you won't worry about allergic reaction you'd get from wearing it.
Some people with sensitive skin find that disposable sanitary napkins irritate their skin and give them rashes "down there." If this is the case for you, consider using Period Panteez along with internal products and see the difference. Your body will probably thank us!
A feminine hygiene product that feels good against your skin and isn't full of chemicals? We LOVE that here at Reusable Menstrual Cups. And we're confident that you will too!
Check them out today and see for yourself. And get ready for a safer, healthier, eco-friendly, more affordable period experience.

How to Clean Period Panteez
It is easy to handle and clean the Period Panteez Menstruation Underwear. You can wash it by hand or with a normal washing machine. This way, you can wear it again for your next menstrual cycle. You'll love having a few pairs of these in your drawer.
Check out these tips for how to clean cloth menstrual pads—what you need to do with period panties is very similar.
One of the best things about Period Panteez is that they're black. This means that any stains that do stick won't show up. We actually wonder why more menstrual panties companies don't make only dark-coloured ones?
There are actually other color options for Period Panteez too. But, we love the black ones and these are the ones we usually recommend.
A tip for you, if you do have light-coloured menstruation panties. When you take them off, give them a little spray of stain remover and throw them in your hamper. They'll come out looking brand new!
PeriodPanteez Features
There are a ton of great features in these well designed period underwear. They include:
Designed to prevent pad displacement, should you choose to wear that instead of  menstrual cup or tampon.
Prevent leaks and embarrassing accidents
Offer some serious coverage
Save money with a reusable option
They can last for years, and just be throw into the wash with your regular laundry.
Money-back guarantee
Made in the USA
What can Period Panteez Do for You?
Why should you consider trying a pair of Period Panteez Menstrual Underwear? There are lots of reasons why you might consider them.
Protect Clothes and Bedding
Period panties like these ones from Period Panteez can protect your clothes, bedsheets and underwear. Maybe you wear a tampon or menstrual cup, along with a back-up pad to bed, but on the night of your heaviest flow, still wake up with stained sheets?
If yes, Period Panteez can give you that last little bit of protection that you need. Say yes to peace of mind!
No Pad Displacement with Period Panteez
Period Panteez are tight-fitting, when compared to some of the other period panties on the market that fit more like regular underwear. This can help with a few different things, including the following:
Most importantly, Period Panteez can help to keep your menstrual pad in place. No more slipping around! This is especially true while you're exercising during your period.
Helps to relieve cramps. The tight fit can help you to feel better during your period.
Shaping. Look great during your period with these shaping underwear
Give you an Extra Boost of Confidence
When you have your heaviest flow, are you nervous about sleeping over at someone else's house for fear that you'll stain their sheets.
Maybe you don't like to wear certain clothes. Perhaps you're reluctant to exercise.
Period Panteez can give you that extra little bit of confidence to feel safer, and more secure during your period. They do a great job at preventing embarrassing leaks.
Pair with a Menstrual Cup for Ultimate Protection
Another reusable feminine hygiene product to consider is a menstrual cup, such as the Moon Cup. Menstrual cups are great for the environment, your health and also your wallet!
If you want the ultimate heavy period protection, then we find period underwear, along with a menstrual cup is what works the best. Menstrual Cups, especially the high-capacity ones have volumes 3-5 times more than the average tampon, so you'll have a way longer time before you start leaking.
Pair one with a pair of period panteez and you'll have an extra cushion. It's a serious win for period awesome!
Our goal is to help make feminine hygiene less of a hassle, less expensive, and better for the environment. Period panties go a long way towards doing that, which is why we highly recommend them here at Reusable Menstrual Cups.
Which Menstrual Cup should I Try?
The MoonCup is one of our most highly rated menstrual cups. It's easy to insert and remove, and most people who use it find that it doesn't leak.
The Moon Cup is an excellent period cup for beginners, and many people who try it, end up sticking with it for the rest of their lives. It really is that good.
Try the MoonCup if you want to have a safer, cheaper, and easier period experience. You can get it on Amazon:

What People are Saying about Period Panteez:
"These period underwear fit nice and snug, relieving menstrual cramps and hold my pad in place unbelievably well. I'm impressed and have told all my friends about them!"
"These are great. I have issue with heavy bleeding and felt secure with these. They're also super comfortable. Two thumbs up and I'd definitely recommend them. These ones are better than some of the others—the style is nice and they feel quite comfortable to wear."
"I've tried a few different brands of period underwear, but I found Period Panteez to be the most comfortable. They're quite tight, stretchy and form-fitting. It's for that reason that Period Panteez just helped me feel more secure during my period."
Are Period Panteez Underwear only for Menstruation?
A common question that people have is whether or not period underwear is only for menstruation. The easy answer is: no!
Consider using some leakproof underwear for the following situations:
Light incontinence. Period panties are not really good at "absorbing" fluid, but they are good at preventing the fluid from staining your clothes.
Post-partum. Consider a few pairs of period panties for after childbirth.
Vaginal infections. If you have an infection of some kind, or things are just not quite right "down there," consider using period panties.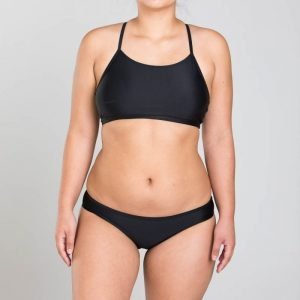 Period Panteez Pros:
Comfortable to wear and has a breathable feature.
This underwear comes in different sizes from double-extra small (XXS) to double-extra large (XXL).
The product promises a 30-day or one-month Money Back Guarantee for customer satisfaction.
Each panty is 100-percent leak- and stain-free.
It is a U.S. product so expect excellent quality in these period panties.
This keeps the sanitary pad perfectly positioned.
The underwear can possibly be an ideal replacement for sanitary pads and liners.
Made in the USA
Period Panteez Cons:
Those with heavy flow might need the support of a reusable menstrual cup or pad to avoid leaks and stains.
The product is sold per piece. You have to spend extra if you want to guarantee total protection during that time of the month.
Tighter than the usual underwear so may not always be comfortable wearing it. Get one size bigger than normal.
Not so stylish design
Compare Period Underwear
There are a ton of options out there beyond Period Panteez. Check out some of our favourites in the chart below:
The Best Period Panties
Can I use Periodpanteez for Swimming?
A common question that people have is whether or not they can use Periodpanteez while swimming. Think about it this way.
Menstrual underwear are designed to trap fluids in, with the goal to prevent leaking. However, they're not designed to prevent fluid from getting in via the outside, like when swimming.
Don't believe us? Put on your Period Panteez and sit in the bathtub for a few minutes. The result will be a leaking, soggy mess.
Try Modibodi Leakproof Swimsuit Instead
If you're looking for one of the only options for swimming, apart from tampons or a menstrual cup, then you'll want to consider Modibodi Swimwear. Although not designed for serious period protection, it's a nice choice for lighter days, spotting, vaginal discharge or light incontinence issues.
You can learn more here, or check them out over on the company website:

The Takeaway on the Period Panteez Leak-Resistant Menstrual Underwear:
Do you still feel uncomfortable during your period? Have you lost self-confidence and self-esteem because of what menstruation brings you? Consider the Period Panteez Menstrual Underwear and regain what you have lost.
The maximum protection and support of this panty won't give you any worries anymore. This is even true on your heaviest day. Coming in different sizes, this period panty is multi-layered so you won't need to spend extra anymore for a sanitary pad.
Period Panties: Replace Disposable Pads
If displaced sanitary pad or liner has always been your problem, worry no more! The Period Panteez Leak-Resistant Menstrual Underwear will help you get rid of frequently displaced menstrual pads. The best thing about this product is that this is chemical-free product. This means that if you have sensitive skin, it's still safe to use.
If you find that normal, disposable pads give you a rash and make your lady bits feel irritated, then try out these period panties. Or, you could also consider organic disposable pads. It's usually the chemicals and pesticides in the regular pads that cause irritation.
Periodpanteez: 30-Day Money Back Guarantee
This period panty is certainly a good value. Isn't the 30-day Money Back Guarantee enough proof that this is a good buy. A company that stands behind their products? One that offer a money-back guarantee?
We love that here at Reusable Menstrual Cups! It doesn't matter if you have a small or big size. There is a size option for you.
Check out Period Panteez Leak-Resistant underwear on Amazon for yourself. You'll have a more comfortable, cheaper, leak-free period experience.

Are Period Panteez Absorbent?
In the world of menstrual underwear, you have two basic options:
An absorbent layer, plus a leakproof layer
A leakproof layer
It depends on the company and which model you choose. Some period underwear are designed to be worn on their own, and can in some cases absorb up to 20 ml (the same as two jumbo tampons).
There are other menstrual underwear that are designed to just prevent leaks. If you have your period, you should wear them with a menstrual cup, tampon or pad. Period Panteez fit into this category.
Can You Recommend an Absorbent Period Panty?
If you're looking for a pair of panties that you can just wear on their own during your period, check out Modibodi Leak Proof Underwear.
Modibodi are some of the best period panties on the market today. They come in a wide range of absorbency levels, but the heavy/overnight ones can be worn alone, even if you have a heavy flow.
Check out all the sizes, colours, styles and absorbency levels for yourself over at their website:

Have your Say about Period Panteez Leak Resistant Underwear
What do you think about Period Panteez Leak Resistant menstrual underwear that can help to prevent accidents? Are they a buy? Or, are you considering another brand of period panties?
Leave a comment below and share your thoughts with us. We'd love to hear from you.
Also be sure to give this article a share on Facebook, Twitter, or Pinterest. It'll help other people, like yourself who are interested in alternative forms of period protection find this useful resource.
Last update on 2021-04-17 / Affiliate links / Images from Amazon Product Advertising API