Lady Cup Review
The LadyCup is a popular new menstrual cup that is  made in Europe. Here are some quick facts:
Made in the Czech Republic from medical grade silicone
Huge variety of colours (and adding more)
2 sizes of Ladycup (small is very small, and large is very large)
One of the firmest menstrual cups
Can last for up to 15 years
2 year guarantee
Can exchange for the other size Lady Cup if needed.
It can be difficult to find the Ladycup menstrual cup in stores. You can easily find it online here: Ladycup on Amazon.
LadyCup Menstrual Cup Introduction
The LadyCup is a menstrual cup out of the Czech Republic. Here at Reusable Menstrual Cups, we love menstrual cups that are made in Europe because they contain top-quality, medical-grade silicone and are manufactured according to strict standards.
The LadyCup is no exception to this-it's a great cup at a very reasonable price. The main selling point is the huge variety of colours. Compare this to something like the Diva Cup with only one, and this might be a reason to consider the LadyCup.
If you want to have a safer, healthier, cheaper, and more eco-friendly period experience, then consider making the switch to a Lady Cup.
Lady Cup Unboxing
Where to Buy the Ladycup
It can be very difficult to find the Lady Cup in stores, especially outside of Europe. And, if a store does carry one or two menstrual cups, it'll likely be the most popular brands like the Diva Cup, Lunette Cup or Mooncup.
That's why we recommend shopping online for menstrual cups. Prices are very competitive and you'll have the full selection of colours, sizes and styles.
Do you want to have a more eco-friendly, cheaper and safer period experience? Then you'll have to seriously consider the Lady Cup.
Check out the Lady period cup on Amazon:

Lady Cup: Huge Variety of Cute Colours
The main selling point for the Lady Cup is the huge variety of cute colours-way more than most other cups which may only have one or two options.
There are currently 17 colours, and you can even vote on which one you want them to make next. Why shouldn't feminine hygiene products be fun?
One Big Negative to the Lady Cup Menstrual Cup
The big negative to the LadyCup is that we wish there was more information about the company and the manufacturing. For example, they say that the LadyCup is manufactured in the EU, but give no additional information.
We had a very difficult time finding out where the company is based, as well as who started it (we never did find out!). If any of our readers know the answers to these question (or the company itself), please get it touch and we'll update this information.
 Lady Cup Sizes
There are two sizes of LadyCup: Small and Large. If you're not sure about which size you need, just order one. If it's the wrong one, return your cup to the company and they'll send you the other size.
Love it? We sure do and wish that more menstrual cup companies would have the same policy. Please note: there are some reports online about this being quite difficult to do, in actual practice!
The company recommends the small cup for someone who has not given birth vaginally, or is up to 25 years in age. The large is for someone who has given birth vaginally, or is over 25 years in age.
We love that their small really is a small cup, while the large really is a large one with quite a high capacity (perfect for someone with a heavy period).
LadyCup Small: 
diameter 40 mm
length 65 mm
max. volume 21 ml
LadyCup Large:
diameter 46 mm
length 66 mm
max. volume 34 ml
LadyCup Length
The company mentions cutting off the stem if you find it too long. This may indeed be the case if you have a low cervix. Of course, start small and only cut off a centimetre or two at a time because you want to cut off the smallest amount possible in order to assist with removal.
However, at 65/66 mm, the LadyCup is already slightly shorter than the average menstrual cup at 70 mm in length (the Diva Cup).
LadyCup Capacity
The small LadyCup has a capacity of 21 ml, while the large holds 34 ml. If you have a very heavy period, you'll probably want to avoid the small Lady Cup, and opt for something that holds 30+ ml. If you use a cup that holds around 20 ml, you'll find yourself having to change it too frequently.
At 34 ml, the large Lady Cup holds more than the average 30 ml. This can make it a nice option for someone with a heavy period, although there are some high-capacity menstrual cups that hold 40+ ml so you could also consider those ones.
For example, the Super Jennie large is currently our favourite high-capacity menstrual cup.
—>Find out more details about the Super Jennie Here<—
One of the Firmest Menstrual Cups
The Lady Cup fits into our "extra-firm" category on this menstrual cup firmness chart. That makes it a great choice for beginners, because it's very easy to insert.
The stiffer menstrual cups just "pop" into place easily one you insert them into your vaginal canal. The softer menstrual cups often take a bit of twisting, and turning to get them to open, seal to the vaginal canal wall, and not leak.
The major downside to a very stiff menstrual cup is that for some people, it may be a bit uncomfortable. This is because it can press very strongly against the vaginal canal, and even cause cramps in some cases.
It's for this reason that some people might consider a softer menstrual cup.
—>Check out our Best-Selling Soft Menstrual Cup<—
For more details, have a look at our Menstrual Cup Firmness Guide: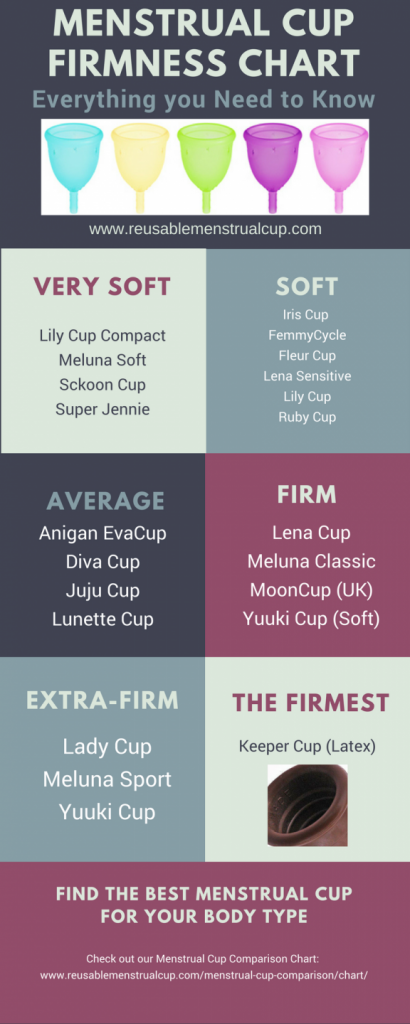 Buy the LadyCup on Amazon:

Is the LadyCup Menstrual Cup Good for Beginners?
If you're looking for your first menstrual cup, you may want to know if the LadyCup menstrual cup is good for beginners.
In general, we recommend firmer menstrual cups for your first cup because they are easier to insert. Once you put them inside your vaginal canal, a firm cup should just pop open pretty easily.
If you use a softer menstrual cup, you may find that you have to wiggle, or twist and turn the cup to get it to open. This may cause some serious frustration!
The major downside to firm menstrual cups is that some people find them uncomfortable because they can push strongly against the vaginal canal walls.
It really is up to you! However, if you're a beginner, a firmer menstrual cup is better than a softer one, so the Lady Cup may make a nice choice for you.
LadyCup Pros:
Made in Europe with the highest quality silicone.
17 colours to choose from!
You can exchange the small for the large and vice-versa (for free).
The large has a very high volume, making it perfect if you have a heavy flow.
Small is suitable for smaller people and/or teens.
100% smooth surface (no ridges or holes) makes cleaning very easy.
Can last for up to 15 years, with proper menstrual cup care and cleaning.
2 year guarantee on this cup.
Affordably priced
From the makers of the very popular LadyP (female urination device)
LadyCup Cons:
A lack of information about the company.
A lack of information about the manufacturing process.
It's one of the more expensive menstrual cups on the market today.
There have been some reports about people receiving packages from this company that have already been opened. Or, a exchange for a difference menstrual cup size that ended up being lost for months.
What People are Saying about the LadyCup on Amazon
"I finally found a menstrual cup that works well for me. This one doesn't leak, unlike some of the other ones that I've tried, including the Lunette Cup and the Meluna."
"The grips on the stem work very well for getting a good grasp on it when I'm trying to remove it. I hate those menstrual cups which have flat stems—so difficult!"
"I love how comfortable the Lady Cup is, and also the great value for the money. Don't waste your money on some of the more expensive menstrual cups when this one works just fine."
—>See More Customer Reviews and Ratings Here<—
Buy the LadyCup
This menstrual cup is not readily available in stores, especially outside of Europe. The best place to get it is on Amazon. Although it can be quite difficult to find on Amazon marketplaces outside of Europe. You can check it out here:

Can I Wear the Lady Cup Menstrual Cup Overnight?
You are probably used to hearing warnings about Toxic Shock Syndrome and tampons. The recommended maximum time for these products is 8 hours, which can be a bit tough if you like to sleep in!
Can you wear the Lady Cup overnight? Yes, certainly. And it's actually a better choice than tampons because you can use the cup for up to 12 hours. Empty your Lady Cup before you go to sleep, sleep in and have a leisurely breakfast. Then, worry about dealing with your period.
Of course, you'll have to empty your cup sooner than that if you have a heavy flow, particularly with the small size with a capacity of only 21 ml. You'll have a bit more leeway with the large at 34 ml.
Why Make the Switch to the Ladycup from Tampons?
If you're currently using tampons, you may want to know why you should consider making the switch to the Ladycup, or other menstrual cup brands. There are a number of reasons why you might consider it. But, some of the most common ones include:
The Environment
The average person uses more than 10,000 tampons during a lifetime. That's a lot of waste going to the landfill. Of course, there's also the manufacturing process, as well as transporting all those goods.
Compare this to the Ladycup, which most people find lasts for 5-10 years. That's a handful of menstrual cups over a lifetime, compared to thousands of tampons.
It's obvious which option is better our Earth.
Money Saving Potential
Most people spend around $5 per month on feminine hygiene products. Not a big deal, right? But, over a year that's $60, which ends up being thousands of dollars over a lifetime.
A top-quality menstrual cup like the Ladycup costs a bit more up-front, but ends up being way cheaper in the medium to long-term.
Worth it? Most definitely.
Health Reasons
This is something that not a lot of people know, but non-organic tampons often contain trace amounts of toxic chemicals in them. They come from the pesticides used on the cotton, as well as the bleaching process.
Switching to the Ladycup can offer you a toxin free period experience.
Oh yeah, the risk of Toxic Shock Syndrome is lower with a mentrual cup than with tampons.
A Heavy Period
If you have a heavy period, you'll love the Ladycup. It has a capacity 3x more than even a jumbo tampon, which means 3x less period hassle.
Try it out for yourself and our guess is that you'll never go back.
More LadyCup Reviews
How to Use the Lady Cup
If you're new to menstrual cup, you probably want to know how to use the Lady Cup. And, is it easy to figure out?
The thing to keep in mind with any menstrual cup is that there's a bit of a learning curve to using them. It takes most people at least a few cycles to become 100% confident in them, so don't give up too quickly. Put on a pad to catch the leaks, and you'll eventually figure it out.
Beyond that, here are a few simple steps you can follow to use your new Ladycup:
Wash your hands and the cup first of all (use mild soap, or menstrual cup wash).
Fold the Ladycup (see video below for help) and insert it into your vagina.
Be sure to point the cup down, and back towards your tailbone. Don't point it up towards the sky.
Because the Lady Cup is so firm, it should just pop open pretty easily. If it doesn't, you can jiggle, or twist it one direction, then the other.
You can leave your Ladycup in for up to 12 hours. Or, if your period is heavy, you may have to take it out sooner.
You can remove a menstrual cup by squeezing in at the base with two fingers to break the suction seal. Then, pull out the cup.
Wash your cup with mild soap and water, or a menstrual cup wash.
Menstrual Cup Folding Techniques
My LadyCup is Leaking
There are a few different reasons why your menstrual cup may be leaking. We'll give you a few tips for dealing with this.
But, please keep in mind that all menstrual cups leak for most people during their first few cycles. There is a serious learning curve to using them, and this is totally normal. Wear a pad, or period panties as a back-up and don't worry too much about it.
Beyond that, here are a few things you can do if you find that your Lady Cup leaks.
When you insert the Ladycup, be sure to point it back and down towards your tailbone. This will help to ensure that the cup is actually under your cervix.
Keep the Lady Cup low in your vaginal canal, just so that the stem isn't sticking out. It's not designed to fit way up in your vaginal canal.
Try different folds. Some work better than others.
You can jiggle, or twist the cup one direction, then the next to help it open up.
Also run your finger around the rim to feel for any obstruction.
Is your Cup too Big, or too Small?
Have your tried all these tips, and followed the directions that came with your Ladycup carefully, but find that it still leaks?
If your cup is too big, it'll never really seal to your vaginal canal walls and will leak. There will always be folds in it.
If your cup is too small, it'll also leak because it won't really seal to your vaginal canal walls.
The good news with the Ladycup is that if you order the wrong size, you can exchange it for the correct one.
This could be the easy solution to your leaking problem with the Lady Cup.
Care and Cleaning of the LadyCup
Care and cleaning of this menstrual cup is very easy because there are no holes or ridges. Most menstrual cups have these markings, and at times, you'll need an old toothbrush to scrub the nooks and crannies. However, the Lady Cup makes it easy for you. Here is what the company recommends for care and cleaning:
Wash your Hands
You should always wash your hands before handling a menstrual cup, or inserting and removing it. This helps to prevent things like yeast infections that can happen if you introduce foreign germs into your vaginal canal.
Soap and Water
The company recommends cleaning your sanitary cup with plain soap and water during your period. Use a non-scented, gentle soap however, and certainly not something that is abrasive. You can also use something like the Pixie Cup Wash, or the Lunette Feelbetter Menstrual Cup Cleanser. 
Don't let Menstrual Fluid Dry 
If you let the menstrual fluid dry on your cup, it'll be harder to clean. Take care of it as soon as possible.
How to Sterilize your Ladycup
If you want to deep-clean your Lady Cup, the best way to do that is by boiling it in a pot of water on the stove for 5 minutes. Be sure to keep an eye on it and don't let your cup stick to the sides, or bottom of the pot.
Some people sterilize their Lady Cup every few months, while other do it at the end of every cycle. The choices is yours.
Compare Menstrual Cup Washes
What is the Lady Cup Guarantee?
Menstrual cups aren't cheap, so it makes sense to find out if the company offers a guarantee of some kind.
In the case of the Ladycup, they do offer a two year guarantee on the materials. So, if the silicone rips, tears or otherwise degrades, you can return the cup for a full refund.
If you choose the wrong size cup, you can return it, and get the other size as a replacement.
The Lady Cup and IUDs
A common question about the Ladycup is whether or not it's compatible with an IUD. There is no information about this on the company website. However, we can give you some general advice about menstrual cups and IUDs.
First thing first, be sure to check with your doctor before doing using the Ladycup Menstrual Cup along with an IUD.
Make sure that there's space between your cervix and the Lady Cup. It's designed to sit low in the vaginal canal, so don't push it all the way up there.
If you have a very low cervix, the Ladycup is probably not the right menstrual cup for you because it's an average length. You might also find it quite difficult to use a menstrual cup along with an IUD.
You can get your doctor to trim the stems on your IUD as short as possible so that they don't interfere with your Lady Cup.
Be sure to break the suction seal first, and then remove your menstrual cup. You do this by squeezing in at the base of the cup with two fingers, and then pulling it out.
DO NOT pull out your Ladycup by the stem alone. This is the fastest way to dislodge an IUD.
Lady Cup Storage Between Cycles
If you store your menstrual cup away from UV radiation (the sun), the colour will be maintained a lot better. After your period is done, clean the cup thoroughly with soap and water. Or, you can sterilize it by boiling it for 5-7 minutes in a deep, wide pot on the stove. Don't let the cup touch the sides or bottom.
Let the cup dry well, and then put it into the cotton bag that came with it. We recommend putting it into a drawer to keep it out of the sun. However, make sure there is good air flow because nothing ruins a menstrual cup faster than storing it in an airtight place.
With proper care, they suggest that their cup can last for up to 15 years. That's a really long time!
See: How Often to Replace a Menstrual Cup.
What about Sex with the Lady Cup?
An excellent question that many people have is whether or not they can have sex when wearing a menstrual cup, including the Lady Cup. The answer is that it depends!
For anything that is not penetrative sex, the LadyCup makes an excellent option, and it's even better than tampons. Since there are no strings hanging out, your partner may not even know that you have your period.
However, for penetrative sex, regular menstrual cups are not suitable. There just isn't room for all that stuff up in your vaginal canal. Even if you do try, you'll probably dislodge the LadyCup and cause a whole lot of leaking.
Try SoftCups for Period Sex
If you want to have sex during your period, consider Instead SoftCups. They are flat discs that sit right up under your cervix, unlike the Lady Cup which sits down low in your vaginal canal.
The big negative to Soft Cups is that they're disposable, which means that they're not eco-friendly, and also that they're quite expensive.
That's why we recommend something like the LadyCup for everyday use, but then having a box of SoftCups in your cupboard for those "just in case" times.
Soft Cups are not usually available at your local drugstore. The best place to buy them is on Amazon:

Can I get Toxic Shock Syndrome from the LadyCup?
A common question is whether or not you can get toxic shock syndrome (TSS) from a menstrual cup, including the Lady Cup. You may also want to know whether your risk of TSS is higher with a menstrual cup than with tampons.
Let's talk numbers.
There are thousands of reported cases of toxic shock syndrome that has been caused by a menstrual cup. To date, there is only one case associated with a menstrual cup. It happened because the person cut themselves when inserting the cup at the beginning of their period.
Of course, there are far more people that use tampons than menstrual cup so this must be factored in. In reality, the overall risk of toxic shock syndrome from tampons is quite low when you consider the number of people that use them.
What is clear is the overall risk is perhaps lower with menstrual cup than with tampons.
Can I get Cramps from the Lady Cup?
Although it's quite rare, some people do experience cramps from menstrual cups, including the Lady Cup.
This is because the firmer menstrual cups like the Ladycup can sometimes push very strongly against the vaginal canal walls. It can sometimes restrict the urethra as well, which some people tolerate better than others. This can be uncomfortable for some people and cause cramp-like symptoms.
What to do if the Ladycup, or other menstrual cup gives you cramps? There are two things to consider:
Switch to a softer menstrual cup. Although these cups are a bit more difficult to insert, they don't push so strongly against the vaginal canal walls. Check out our top-rated, soft menstrual cup, the SckoonCup.
You can switch to a smaller menstrual cup. In some cases, the cup is pushing so strongly against the walls of the vagina because it's too big.
Can I Go to the Bathroom While Using the Lady Cup?
A common question that people have about the Lady Cup is whether or not they have to take it out before going to the bathroom. The good news is no! It'd be a big hassle if you had to take it out every single time you went pee.
Let's talk anatomy for a minute. You have three holes "down there:"
Urethra, where pee comes from
Anus, where poop comes from
Vagina, where the Lady Cup is inserted
In theory, none of these things should interfere with the other ones. However, you may find that it takes a long time to pee while you have a menstrual cup in. This is because the vagina and urethra are in close proximity. The cup may push a little bit against your vaginal canal walls, which can restrict the urethra a little bit and cause the delay.
Most people find that this isn't a big deal, but if you do, consider using a softer menstrual cup.
Ladycup vs Lunette Cup
The Ladycup and the Lunette Cup are two popular menstrual cups that are made in Europe. But, which one is right for you, your body type, and budget? Find out more details in this video:
Lady Cup vs Diva Cup
What about the Ladycup vs. the Diva Cup? The Diva Cup is the most popular menstrual cup in the world. It's made in Canada from medical grade silicone, and if you're able to find one menstrual cup at your local store, it'll be this one.
How do these menstrual cups compare to each other? Check out this video for all the details about the Diva Cup vs. the Lady Cup:
What about the LadyP (Female Urination Device)?
The company makes another product, The LadyP, which is readily available on Amazon. Reviews for this product are excellent, and it's one of the most popular female urination devices.
—>Check Customer Ratings and Reviews for the LadyP<—
You can also order the Lady Cup in a package along with the LadyP.
The LadyP is a device that allows women to pee while standing up. This could be very useful for something like camping or backpacking, or in certain occupations where you have to go up in something like a lift for long periods of time.
It's also great for traveling in underdeveloped countries. Or, after knee or hip surgery when it can be hard to bend down to sit on the toilet. Trans people may also consider the LadyP if they prefer to pee standing up.
Get the LadyP on Amazon
Check out the LadyP for yourself on Amazon:

LadyP Female Urination Device Review
The Takeaway on the LadyCup
Overall, the Lady Cup is an okay, but it's one of the most expensive cups you can buy and we're not sure the high price is worth it. We do like the guarantees offered by the company, including 2 years on the materials, and a free exchange if you got the wrong size.
But, if Amazon reviews are any indication, you may have a pretty difficult time getting a hold of the company to claim this. The company doesn't seem to make it easy to contact them.
We also like that the large size really is large. This makes it perfect for someone with a heavy period. And the small LadyCup really is small, making it a good choice for a smaller person, or a teenager.
The 15+ colours are a nice selling point too. Why shouldn't feminine hygiene products be cute and fun?
Buy the Lady Cup
If the Lady Cup sounds like it's the one for you, you can check it out for yourself on Amazon today:

Have your Say about the Lady Cup Menstrual Cup!
Is the LadyCup menstrual cup a buy? Or, are you considering another menstrual cup brand.
Leave a comment below and share your thoughts with us.