Very heavy bleeding is one of the most common types of menstrual disorders. Keep on reading to find out more, including symptoms, causes and treatment options.
What is Menorrhagia?
Menorrhagia is the term for people with very heavy, or prolonged periods. It's not uncommon to have heavy menstrual bleeding, but most people don't lose enough blood to officially be diagnosed with Menorrhagia.
In this case, the blood loss is so great that the person isn't able to maintain their normal activities. They will often soak through something like a jumbo tampon in an hour or two.
Some complications from this very heavy bleeding include anemia/iron deficiency due to the excessive blood loss. It's characterized by pale skin, weakness and tiredness.
Many people also experience severe cramps along with Menorrhagia. Sometimes they can be so painful that they require medical attention.
This is a terrible situation, but the good news is that there are treatments available. Keep on reading for all the details.
Signs and Symptoms of Menorrhagia
Bleeding through a pad or tampon every hour, for multiple hours in a row
Doubling up on period protection during the night
Getting up in the night to change feminine hygiene products
Menstrual flow lasts longer than 7 days
Blood clots that are larger than a quarter
Anemic (low iron) symptoms, including tiredness and shortness of breath
Inability to continue with normal activities during a period
What's the Official Diagnosis?
The average person loses 30-40 ml of blood over 4-5 days during their period. They're able to use a jumbo tampon or pad for a period of at least a few hours.
Officially, if you lose more than 80 ml, or double the normal amount, then you have Menorrhagia.
However, a more common definition these days is if a women experiences such a great amount of blood lost during her period that she feels she can't reasonably handle it. For example a flow that lasts longer than 7 days, or requires changing a tampon every 1-2 hours.
What Causes Menorrhagia?
There are a number of causes for abnormally long and/or heavy bleeding. Some of them include:
Problems with the ovaries, including fibroids
Polyps
Hormonal imbalances
Non-hormonal IUD
Complications during pregnancy
Cancer
Certain medications
Other medical conditions, especially with the liver and kidney
Please check with your doctor if you have very heavy periods to rule out any of the more serious medical conditions.
Symptoms, Causes and Treatments for Menorrhagia
https://www.youtube.com/watch?v=I7DOFBLg00s
Treatment for Menorrhagia
There are a number of treatment options available to you, but it will depend on your individual circumstances and symptoms. Please consult with your doctor for the best advice.
NSAIDs, such as Ibuprofen or Naproxen. They can help to reduce menstrual flow, and also assist with menstrual cramps.
Oral Contraceptives, or Progesterone, which can help to regulate the menstrual cycle and hormones.
Hormonal IUD, which can make the uterine lining thinner, as well reduce menstrual flow and cramps.
Iron supplements. If you're anemic from your excessive blood loss, your doctor may recommend taking one.
Other, please consult with a medical professional
Surgical interventions
How to Deal with Menorrhagia
This is a common problem among women. It's thought that 10 million women in the USA are affected each year. But, how should you deal with it?
Here are a few ideas
#1: Consult with your Doctor
The first thing you should do it consult with your doctor. Please remember that we are not medical professionals.
Heavy periods are sometimes caused by some very serious health conditions, including cancer. Please check with your doctor to rule out any of these more serious problems.
Beyond that, there are treatments for Menorrhagia. Your doctor will be able to give you a rundown of the treatments available for your specific situation.
#2: Get your Iron Levels Checked
If you have an extremely heavy period, it's not uncommon to have low iron levels. Be sure to get them checked via a simple blood test to see if this is the case for you. There are treatments for this, and you'll probably start to feel less fatigued.
#3: Use a Menstrual Cup
A jumbo tampon holds around 10 ml, while a regular tampon is only 5 ml. If you have Mennorrhagia, this probably isn't enough.
We recommend using a menstrual cup instead. The average cup can hold 30 ml (the Diva Cup for example), while there are some high-capacity period cups that have room for up to 50 ml.
If you have an extremely heavy period, that's kind of a game-changer. You might even be able to sleep through the night!
One of our favourites is the Super Jennie Cup, which can hold an impressive 42 ml. It's soft, comfortable and most people find that it doesn't leak.
You can check it out for yourself over on Amazon:

#4: Consider Period Panties, or Reusable Cloth Pads
The Best Period Panties
Another period protection option to consider with Menorrhagia are period panties and reusable cloth pads. They have the following benefits:
Are more eco-friendly than disposable pads
Will save you a ton of money over the medium to long-term, particularly with a very heavy period
Can reduce your exposure to toxic chemicals
Which Period Panties should I Consider?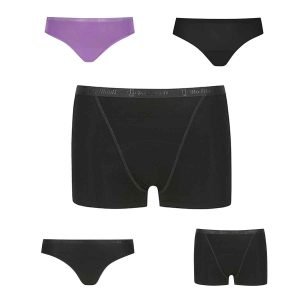 There are a myriad of period panty brands. But, there are two basic styles. Some have only a leakproof layer, while others have this, plus an absorbent layer.
If you have a very heavy period, you'll want to get the ones with an absorbent layer to them. One of our favourite brands that actually work are Modibodi, out of Australia. Shipping is free with a minimum order to many countries, and there's a money-back guarantee on your first order.
They have a huge range of styles, and some of them can absorb up to 10 ml. Pair them with a menstrual cup and you'll have some serious period protection.
Check out Modibodi over at the company website:

How about Reusable Menstrual Pads? 
The last option to consider are reusable pads. They're eco-friendly, affordable and offer just as much protection as a disposable pad. The small negative is having to wash them, but if you don't care about staining, it's as easy as throwing them in with your regular laundry.
Check out this chart below for some of our top picks:
Learn More about Abnormal Periods Here
https://www.youtube.com/watch?v=p0qQiYXg7sA
Heavy Bleeding and Perimenopause
Around 25% of people experience very heavy bleeding in the years before menopause. If that's you, don't worry. It's normal.
However, there are various reasons for if, and the treatment options depend on the cause. Please see your doctor if this is happening to you.
More details here: Perimenopause Heavy Periods.
What about Abnormal Bleeding?
If you don't have very heavy periods, but have spotting between periods, then you may Metrorrhagia. It can be related to the menstrual cycle, or not and simple be bleeding from the uterus.
There are treatments for this, as well as some serious underlying conditions that should be ruled out so please check with your doctor.
Learn more here: Metrorrhagia, Symptoms and Treatment Options.
What about Menometrorrhagia?
If you not only have very heavy periods, but irregular one as well, you may have Menometrorrhagia. By "irregular," we mean bleeding that happens outside the normal times, such as mid-cycle.
There are numerous reasons this could happen, as well as various treatment options. The treatment depends on the underlying condition.
Sounds like you could have this? Learn more here: Menometrorrhagia FAQs.
I have the Opposite Problem: Lighter than Normal Periods
What about if you find yourself having periods that are lighter than normal. Sounds awesome, right? It actually isn't because it could be a sign of a serious problem. Check with your doctor.
More details here: Learn more about Hypomenorrhea.
Menorrhagia: Have your Say!
How do deal with Menorrhagia? Leave a comment below and share your thoughts with us.
Reference: Mayo Clinic