Diva cup problems: Do you want to know what they are? Then keep on reading our complete guide to problems with menstrual cups.
Menstrual Cup Dangers Introduction
So you want to know why menstrual cups are bad? Keep on reading for all the info you need to know.
There are a few menstrual cup dangers and problems that you should be aware of them. We'll give more details about each of them in this article.
Let's get into the problems with menstrual cups that you should be aware of. And, some of the risks of using a menstrual cup that you should know.
Some of the Most Common Menstrual Cup Problems
Why menstrual cups are bad? We don't actually think that they are, however, there are a few menstrual cup problems to know. We'll outline the following menstrual cup health risks:
Menstrual Cups aren't comfortable
Cleaning and storage of feminine cups
Menstrual Cup materials
Sanitary cups getting stuck
Menstrual Cup infection (yeast infection/BV)
Cramps from using period cups
Are they safe? Cheap menstrual cups maybe aren't
Menstrual cup side effects: Allergic reactions
Disposal of  fluid
IUD may not be compatible with the Diva Cup
Makers of disposable period products may suffer!
Period cups are so convenient that you may forget you have your period
Removal is messy
My Diva Cup is leaking!
Trying to use a normal menstrual cup for penetrative sex
Peeing with a sanitary cup
Keep on reading for more details about each of these things.
Menstrual Cup Dangers
If you are tired of using sanitary pads and tampons for those difficult days and have always wished for a better alternative, you now have the ideal solution – menstrual cups. They are also known as period cups, or sanitary cups. Some of the most popular brands that you might have heard of include the Diva Cup, MoonCup or the Lunette Cup.
People all over the world are switching over to this popular, eco-friendly feminine hygiene product. They promises a better alternative to tampons and sanitary pads.
However, before using them, it would be helpful to know more about how they work, and their cost.We'll also look at if there are any dangers related to menstrual cups. Are there any that are serious enough to not consider buying them?
Many Advantages, but Some Negatives to Menstrual Cups
Sale
Lena Sensitive Menstrual Cup - Small - Clear - Regular Flow - Soft Beginner Cup - Made in USA -...
A better period. Lena is a reusable silicone cup that collects your monthly blood flow. Inserted...
Active and Comfortable. You can wear Lena for 12 consecutive hours before having to clean it and...
Made in California. Lena Cup uses USA made medical grade silicone and dyes to ensure complete...
From first to last period. Lena Cup is ideal for most users regardless of physique, activity level...
Zero Waste. With proper care and use, one Lena Period Cup can be reused for many years eliminating...
Environmental Benefits for Menstrual Cups vs. Tampons
Menstrual cups have several advantages over their traditional counterparts such as tampons. Period cups are reusable, which means that they're great for the environment (see: how long can a menstrual cup last). They can potentially replace hundreds or thousands of pads or tampons.
Some companies recommend replacing a menstrual cup every year or two, but in our experience, this isn't really necessary. A more reasonable time-frame is probably every 5 years.
Menstrual Cups: Better for your Body
Menstrual Cup are safer for your body than tampons. By switching to a menstrual cup, you can reduce your exposure to toxic chemicals, and also lower your risk of Toxic Shock Syndrome.
More details about this later on.
More Convenient
Menstrual Cups also give you non-stop protection for up to 12 hours. Yes, it really is possible to sleep through the night of your heaviest flow.
Menstrual cups have a capacity 2-3 times more than that of a jumbo tampon. Love it? We sure do!
Save Money with Menstrual Cups
Period Cups can also save you a ton of money in as short of time as a few months. We're sure you already know this, but disposable feminine hygiene products like tampons and pads are expensive. This is particularly true if you have a heavy flow.You'll have to spend $10-20 a month on these products. A menstrual cup costs around $30, but can last for years.
See: Are Menstrual Cups expensive? for a breakdown of the potential savings.
Though menstrual cups are not dangerous, they potentially do have a few downsides, just like any other product. Keep on reading for a few of the menstrual cup problems that you should know about.
Menstrual Cups: Things Nobody Tells You
Menstrual Cup Dangers
Though some of these cannot be termed as menstrual cup dangers, they are nevertheless potential downsides of using period cups.
Although we love menstrual cups here at Reusable Menstrual Cups, some people do indeed experience problems with them. This is especially the case at the beginning. There is indeed a learning curve to using menstrual cups, no matter how easy the manufacturers claim they are to insert correctly!
Let's talk about the flip sides of menstrual cups, and menstrual cup dangers in more detail here.
Problem with Menstrual Cups #1: Discomfort
One of the most common menstrual cup problems is that some women find them uncomfortable and it may cause irritation.
Anything new inside your body takes time to get adjusted to. Since a menstrual cup has to be inserted into your vaginal cavity and will remain there for up to 12 hours, the initial stages may feel quite uncomfortable.
However, there is no danger of it getting lost inside your body. So try it for an entire cycle before you write off the option. It actually takes most people 4-5 cycles before they're truly comfortable inserting and removing it, so make sure you persevere and don't give up too soon.
Quick tip: if you find your cup doesn't open easily when you put it inside you, try a different fold. This can solve many of the problems.
Another problem that a woman might have is that they find it irritating when inserting and removing it. This is particularly true if the opening to your vagina is quite small. You have to reach up with two fingers to put in, and take out your cup so this may be a bit painful for some.
Finding the Right Cup is the Key
See this menstrual cup comparison chart, as well as reviews for help in deciding which one is right for and your body type. There are very few people who truly find that a menstrual cup won't work for them. In almost all cases, it's just a matter of finding the right one for your body type.
Problem #2: Thorough Cleaning and Safe Storage is Required
Cleaning a menstrual cup can be a bit of a hassle. It's not exactly a danger, but more of an inconvenience.
Reusable menstrual cups are designed for you to empty, wash and reinsert. In case you are away from cleaning resources like warm water, mild soap etc., cleaning them may not be possible but you will be still be able to empty the fluid into the toilet, wipe if off with toilet paper and reinsert. Of course, you need to make sure your hands are clean before you begin this process.
Also, using these cups make it necessary for you to follow certain procedures for hygienic reasons as they are inserted into your body. Each time, you ought to be careful about the quality of water and soap you use.
It is equally important to wash your hands thoroughly before you insert them. We recommend using something like the Diva Wash, or the Lunette Feelbetter Wash, or just plain soap and water.
Risk of Toxic Shock Syndrome
Are they safe, when you consider the risk of TSS? Let's find out how to avoid this problem.
If you don't clean your hands, or menstrual cup well, you're opening up the door to all kinds of problems like yeast infections and even more serious things like Toxic Shock Syndrome. Bacteria can grow on menstrual cups, so you need to use soap, menstrual cup wash or boil your cup regularly to get rid of it.
How to Clean a Menstrual Cup
End of Cycle Cleaning
Cleaning your menstrual cup at the end of your cycle also isn't a really big deal, but it can be considered a minor inconvenience.
Boil your Menstrual Cup to Sterilize It
If you want to deep clean your cup, you should boil it in a pot of water on the stove for 5 minutes. Be sure to keep an eye on things. Many a menstrual cup has been ruined because it stuck to the edge of the pot, or the pot boiled dry.
Where to Store a Menstrual Cup
At the end of the cycle, based on the make and model of your menstrual cup, you will have to follow the specific storage requirements, but it usually means leaving the cup in a loose, breathable bag so that it's exposed to air.
Most menstrual cups like the MoonCup or the Diva Cup include one with the package. The worst thing you can do is to leave your menstrual up in a tightly sealed container for 3-4 weeks between periods. If you don't have a little cloth bag, wrap the cup loosely in paper towel and put it a drawer with some air circulation.
Some people find all these steps a tedious process. But if you don't follow these safety and hygiene measures, you may face some health issues. However, this cannot be listed among diva cup problems in the true sense. The danger comes from lack of hygiene, not the product itself.
Diva Wash: Strongly Recommended
If you're looking for a quality product to clean your menstrual cup, you'll need the Diva Wash. It'll keep your cup fresh, and not smelling badly. Another alternative is the Lunette Feelbetter wash. See: Diva Wash vs. Lunette Feelbetter for help in choosing.
Menstrual Cup Insertion and Removal: A Sometimes Messy Affair
Menstrual cups can be a little bit messy, certainly more so than tampons, where you just remove and throw into the trash. It's best to remove, empty and reinsert your cup at home in the comfort of your own bathroom.
However, it's still possible to do it in a public restroom. With time and a bit of practice, you'll get over the "ick" factor. We like to see it as getting acquainted with a natural body process.
And…almost everybody has been there. You know that familiar "pop" when you take out your cup? It can be a bit embarrassing in a public bathroom.
Problems with Menstrual Cups #3: Menstrual Cup Materials 
Are menstrual cups safe with regard to the materials that are in them? Let's find out!
You might be wondering what menstrual cups are made from, and whether or not it's safe to have this material inside your body for up to a week each month. There are 3 main options, but the thing to keep in mind is to make sure the materials are "medical grade":
Latex
The Keeper Cup is a bit unusual in the menstrual cup world in that it's made from latex. This has the distinct advantage of being almost indestructible. However, some people are allergic to it, or develop and allergy after repeated exposure.
That said, for most people, it's fine.
Thermoplastic Elastomer
The Me Luna Cup, Hello Cup and Oi Cup are also a bit unusual in that they're made from TPE. This material is approved for use by the FDA, and it's just as safe as medical grade silicone. However, there are some reports that this menstrual cup smells quite bad, even after serious cleaning. It's probably related to the choice of materials.
As far as safety goes, it's also a good choice.
Silicone
Silicone is far and away the most popular menstrual cup material. The top-quality menstrual cups like the Diva Cup, Lunette Cup, MoonCup, Lena Cup, or Anigan EvaCup use the medical grade version. The material is stiff enough that it will pop open once inside of you and not leak. The material also won't leak chemicals into your bloodstream.
See: FDA Approved Menstrual Cups
However, there are some very cheap menstrual cups which are made from non-medical grade silicone. This is certainly not something I'd want to put into my body because it has the potential to leak harmful chemicals.
Menstrual Cup Danger #4: Menstrual Cups Getting Stuck
One of the risks of using a menstrual cup is that it can get stuck. However, this doesn't happen very often so don't worry too much about it!
Some people face an unfortunate situation of not being able to get a grip on the menstrual cup in order to remove them. Most often, this happens after a night's sleep.
The cup tends to travel further up the vagina. This is because it doesn't have the process of gravity working against it, like it does during the day.
Relax, and Try Again Later
If you ever face such a situation, just relax, take a few deep breaths, and concentrate on your vaginal muscles. If the cup has moved way higher, you'll need to relax your vaginal muscles and try to grab the bottom of the cup with your fingers. Opting for a squatting position also aids the cup to work with gravity and come out.
You can also wear a pad in case of leakage, chill out for a while and relax and then try again later. We strongly recommend using reusable cloth menstrual pads that are easier on the environment as well as your pocketbook. It really can be quite difficult first thing in the morning, but after an hour or two, it's much easier.
If Nothing Else Works…
Sale
Of course, as a last resort, you might need to get someone help you remove your menstrual cup. This is especially true with the disposable Soft Cup, which is designed to sit right up under the cervix. It also doesn't have a ring or stem, so removal can be more difficult. Most people find that their partners are able to help them.
Failing that, head to the doctor. Don't be embarrassed. Trust me—they're seen far worse things stuck up in vaginas than a menstrual cup! It's also their job to help you out.
Can A Menstrual Cup Get Lost?
It's a very real question. You insert your menstrual cup into your vagina, but have a difficult time getting it out. Is it lost forever?
The good news is that this is impossible! The cervix, which separates your vagina from your uterus is a very small opening, except during childbirth. It's impossible for anything as big as a period cup to get through there. Even a mini tampon is way too big.
So worry not about a menstrual cup getting lost!
My Menstrual Cup is Stuck! Here's What to Do
Menstrual Cup Problem #5: Infection due to Menstrual Cups
One of the reasons why menstrual cups are bad is the possibility of infection.
Menstrual cups are extremely safe products, which normally do not create any type of infection or allergy.
However, when left for longer than the suggested period (which is usually a maximum of 12 hours), you become more susceptible to yeast infections, or Bacterial Vaginosis (BV) . This is the same as wearing a tampon for too long. You become prone to yeast infections.
Remember – they are foreign bodies filled with your blood. This should not stay in your body for a period longer than what's recommended and safe. It's best to err on the side of caution and empty the cup sooner, rather than later, even if your flow is light.
Change Frequently to Avoid Vaginal Infections
The absolute maximum is 12 hours. However, shorter is better and it's recommended that you do it at least three times a day. Most people find that 4-5 times works for when they have a heavy flow, and perhaps 2-3 times when it's lighter.
Problems with Period Cups #6: Menstrual Cups and Cramps
There seems to be some confusion about menstrual cups and cramps. Some of the manufacturers claim that period cups actually reduce menstrual cramps. Some users have reported this as well.
However, there are some reports of menstrual cups causing cramps, in people who previously never experienced them. This is probably due to a bad fit-the menstrual cup is either too long or too wide in diameter.
If too long, it can push up against the cervix and cause discomfort. If too wide for your body type, it can push against your vaginal walls too strongly and also cause pain and discomfort.
Sounds like your situation? Then consider using the FemmyCycle teen model. It's one of the smallest menstrual cups on the market today, with a very small diameter.
See: Menstrual Cups and Cramps for more details.
Menstrual Cups and Toxic Shock Syndrome
A common question is whether or not menstrual cups cause Toxic Shock Syndrome. The link between tampon use and TSS is well known. This is why you should change your tampon frequently, as well as use the lowest absorbency level possible. For example, don't use a jumbo tampon when you have a very light flow.
One Reported Case of TSS with a Menstrual Cup
But, is there a link between menstrual cups and TSS? It was generally thought that the answer was "no." This is until quite recently, when one reported case appeared in scientific literature.
She caused a small abrasion upon inserting the Diva Cup, and used it for a period of 10 days before reporting the problem to the hospital. This is the only example we could find.
This case proves that it is theoretically possible to get TSS from using a menstrual cup. However, with only reported case during decades of use, the chance is extremely low. This is especially true when compared to the number of reported cases of toxic shock syndrome with tampon use.
Lately, there's a been a ton of hype in the news about how the risk is higher with a menstrual cup than with tampons. It's based on a study that was done in a lab, not on women, but on biofilm.
Problem #7:  Cheap Cups
One of the most alarming problems is the abundance of low-quality ones on the market today.
There are a bunch of cheap ones on the market today, selling for around $5-10 on Amazon. They are made in China from the cheapest of materials, and to non-existent quality standards. We hate these cups because they are so flimsy that they essentially don't work.
Uncertainty about Materials in Them
However, the bigger problem is that it's not really know what materials are in them. Low quality materials can potentially leak chemicals, disintegrate, and cause medical problems. It's best to avoid them altogether and just stick with the higher-quality cups.
Does it Have 100+ Reviews on Amazon?
We generally recommend ones with an overall rating of higher than 4.0/5, with more than 100 reviews. Some of the most popular cups like the Blossom Cup, Lena Cup, or Eva Cup have more than 1000 reviews. Some of their ratings are even higher than 4.5.
Are they safe? The top quality ones, yes.
Problem #8: Improper Fit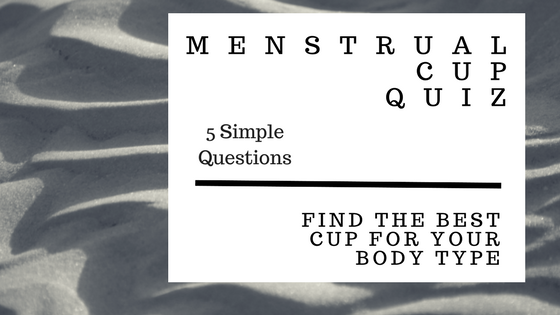 Another problem that some people experience with menstrual cups is that it can be difficult to find the correct fitting one. If you get a period cup that doesn't fit you well,  it'll be uncomfortable and you may even experience cramp-like symptoms.
In order to find the correct cup for your body type, there are multiple factors:
Cervix height (high, medium, or low)
Age
Given birth, or not
Pelvic floor muscle tone
How heavy your period is
Allergies
In order to help you out with this, we've designed this  quiz to help you find your perfect cup. 5 simple questions, 1 minute of your time. The result? Your Cinderella Menstrual Cup.
Danger #9: Allergic Reaction
Sanitary cups are most commonly made from silicone, and less frequently, latex or Thermoplastic Elastomer (TPE). If you have allergies to any of these materials, a menstrual cup made from that isn't going to work for you.
The most likely problem with regard to allergies will be with latex. However, only one period cup, the Keeper Cup is made from that.
The other substances, TPE and medical grade silicone are hypoallergenic. Silicone, for example has been used in implants for years with no problems related to allergic reactions. TPE is used in things like baby bottles and soothers.
So, will you have an allergic reaction? Probably not, especially if you use something other than the Keeper Cup.
Problem #10: Disposal of Blood
When you take out your period cup, you have to dispose of the fluid in it before putting it back in. Most people dump this into the toilet, and then flush it away. Another option is to dump it into the sink and rinse it down.
Even when you're out in the wilderness, most people dig a little hole, dump the fluid into it and then cover it back up. It's less of a big deal than you might think.
It's not that gross and most people get over the "ick" factor pretty quickly. However, some people are grossed out by it!
Problem #11: May Not Work with an IUD
One of the problems to be aware of is how it works with an IUD. In some cases, menstrual cups and IUD's are incompatible with each other.
The key is to have some space between the rim and the strings of the IUD which hang below your cervix. This is to avoid dislodging your IUD when you remove it.
So, if you have a short/medium cervix height, and an average length or long ones (65-80 mm long), then this might not work for you. One solution is to try one of the shorter, low-cervix cups.
However, if you have a very short cervix (you can touch it easily with just the tip of your finger inserted into your vagina), then an IUD along with something like the Diva Cup may not be the right option for you.
Check with the doctor inserting the IUD in any case, low cervix or not for the best advice related to your specific situation.
Problem #12: The Disposable Feminine Hygiene Companies will Suffer
Imagine the possibilities if almost everyone in the world was using a menstrual cup, or reusable cloth pads. It'd be great news for our bank account balances, health, as well as the environment.
Just about the only people who would suffer be those who work at, or own the companies that make disposable pads and tampons.
Is this really a problem? Not so much! Maybe those companies will get with the times and start offering some reusable period products.
Problem #13: You May Forget that You Have your Period!
When you're wearing one, it's easy to forget that you're on your period. Is this really a problem? Not so much!
But, they have a capacity that is 3-4x more than a tampon. And, they can be worn for up to 12 hours, instead of 8 like a tampon.
When did I last empty it???
Problem #14: Removal is Messy
When you're using tampons or pads, you probably already know that you can go through your entire period without getting a single drop of menstrual fluid on your hands. It's kind of nice, right?
However, when you're using a feminine cup like the Diva Cup, this is almost impossible. You will most certainly get blood on your hands every single time you remove your cup, and most of the times you insert it as well.
Is it as gross as you might think? Not really. Most people get over the ick factor after a day or two. Trust us. It's not that bad and certainly not a reason to avoid period cups.
In a public bathroom, just wipe the menstrual fluid off your hands with some toilet paper. Then, wash hands well in the sink. Easy.
Problem #15: My Diva Cup is Leaking
One of the biggest problems with them is that they can leak. You order your brand new cup on Amazon, read the directions, insert it, and then….it just leaks, and sometimes a lot!
Something to keep in mind is that it takes most people at least a few cycles to figure things out.
And there are certainly a few things you can try to, in order to make it work (more details here: Help with Leaking).
Beyond that, if it doesn't leak too much, just use a cloth pad (or disposable if you must) and try not to worry too much about it. Most people wear at least a pantyliner with a menstrual cup in case of this.
How to Stop it from Leaking:
Problem #16: Trying to Use One for Penetrative Sex
Some serious menstrual cup problems can result from trying to use a cup for penetrative sex. Something like the Diva Cup is simply too stiff to work for this. In addition, it sits low in the vaginal canal, and there just isn't room for everything up there.
People have tried having sex with a period cup, but with very little success. The good news is that there are a far better options out there, including the reusable Ziggy Cup which is made from medical grade silicone. Check out this chart below for more details:
The Best Period Sex Options
Problem #17: Peeing while Using a Menstrual Cup
A menstrual cup is inserted into your vagina, while you pee from a tube called the urethra. In theory, these two things shouldn't interfere with each other.
However, some people have the experience that it takes a long time to pee while using a cup. This is because a cup can push strongly against the walls of your vagina, which can in turn restrict the urethra.
As long as it's not uncomfortable, it's not really a big deal. If it's uncomfortable, then you may want to consider a smaller and/or softer one like the Skoon Cup. Check out some of our top picks here:
The Softest Menstrual Cups
How to Avoid Problems with Menstrual Cups
Problems can be avoided if you follow these simple guidelines.
Start with a Top-Quality Cup to avoid Problems
One of the reasons why people think they're bad is because they buy a very cheap cup.
You'll have the best results if you start with a good quality cup, understand how to use it, and get the right size for your body's anatomy.
Giving it a try is the best way to decide if it's for you! But, make sure you persevere for at least a few cycles and don't give up too easily. It takes time to figure out how to use them correctly.
Check reviews first before buying one because it's not exactly like they come with a terms of use to state explicitly whether or not they're a good one.
Clean those Hands
You should always wash your hands well with soap and water before handling a menstrual cup, inserting or removing it.
12 Hours Maximum
12 hours is the absolute max amount of time that you'll want to leave it inside of you. This is to reduce the risk of Toxic Shock Syndrome.
If you have a heavy period, you'll probably need to change it sooner than that.
Keep your Cup Clean
Keeping your menstrual cup clean is the key to a successful experience with them. Use a mild soap and water, or a menstrual cup wash to clean it during your period. Do this every single time you remove your cup.
The exception is if you're in a public bathroom. But, be sure to wash it extra well when you get home.
Some companies will tell you to use only water, but this isn't really recommended. It just doesn't get enough of the bacteria off that cause things like yeast infections of Toxic Shock Syndrome.
Sterilize It
It's recommended that you sterilize your cup at the end of your period. You can do this by boiling it in a pot of water on the stove for 5 minutes.
Know the Symptoms of Toxic Shock Syndrome
Although it's extremely rare, it is in theory possible to get TSS from a period cup. You should be aware of the Toxic Shock Syndrome Warning Signs to Avoid This.
TSS Facts and Symptoms
Risks? Not Really!
Menstrual cup problems? Are they serious? In our opinion, the answer is most certainly no! It's important to keep the facts in mind when making the best choice for your health.
As long as you find the period cup that works for your body type, you'll be fine. Be sure to choose one of the reputable brands, and not a cheapie from China.
Then, keep it clean during your period, as well as at the end. The problems and dangers with them seem to be related to lack of proper hygiene and not the actual product itself. For example, not washing hands thoroughly before inserting or removing it. Or, not washing the cup well during your period, or storing it properly after.
Problems? In short, not really! They are far safer to use than tampons, when considering the risk of Toxic Shock Syndrome (TSS), as well as chemical exposure.
Try out a top-quality menstrual cup for yourself today. Just choose a high quality one.
Menstrual Cup Dangers: Have your Say
What are your thoughts about menstrual cup dangers? Is there anything to worry about, or are they safer than tampons? Do you have tips to make them safer to use? Or, any questions that we didn't answer?
Leave a comment below and let us know what you think. And don't forget to share this content on Facebook, Twitter, or Pinterest.
Last update on 2021-04-17 / Affiliate links / Images from Amazon Product Advertising API