Are yoni eggs safe? Let's find out!
Yoni Eggs: I'm a Bit Conflicted
Yoni Eggs (aka Kegel Eggs): I'm a little bit conflicted about them. There's a lot of hype about them on the Internet due to Gwyneth Paltrow recommending them to just about everybody with a vagina.
There are lots of positive user reports as well. Add to this the fact that people have been using them for thousands of years, and they definitely seem like a good thing! Don't they?
However, there are also lots of doctors who recommend against them. Who to trust? Are those speaking out being overly cautious? Or, is there really a good reason to not use them?
Hence the conflict! Let's find out more details about Kegel Eggs.
Yoni Egg Benefits
Possible Kegel Egg Benefits
According to user reports (not so much scientific studies), kegel eggs can:
Strengthen the pelvic floor
Increase orgasm intensity
Draw imbalances to the surface and release them
Eliminate negative energy
Remove trauma
Use them for detox purposes
Balance your menstrual cycle
How People Use Kegel Eggs
Some people leave them in for hours, including overnight. While there are others who insert them into their vagina before doing kegel exercises.
There are lots of exercises that can be used to strengthen the pelvic floor, but some people use jade or black obsidian eggs for this purpose too.
Yoni Egg Exercises
Here are a few examples of kegel egg exercises that people do:
Not all Glitter and Gold for a Yoni Egg
It's not all glitter and gold for yoni eggs however!
There are also a lot of reactions to Paltrow from people who think that yoni eggs aren't safe and that people shouldn't be using them.
Let's check out more details about these eggs. The goal is to help you decide for yourself if they're safe, or not.
Yoni Egg Unboxing Video
Disclaimer: 
Full disclaimer here: I received a free sample of some black obsidian, as well as jade yoni eggs to check out from menstrualcup.co. I did try them out a couple times and found them to be well-made.
Any negative things I'll share below aren't specifically about these ones, but about yoni eggs in general.
Are Yoni Eggs Safe?
Problem #1: No Scientific Studies about Yoni Egg Benefits
The first problem with Yoni Eggs is that there are no scientific studies that I could find which back up any of the benefits that these eggs claim to offer.
Trust me. I looked. If you can find any real science with cold, hard facts to back up any of the claims, please feel free to send them my way. I'll update this article stat. Just leave a comment below.
Not that I'm all crazy about the science thing. Some things can't be proven. I understand this. However, it seems like some of these claims about yoni eggs actually could be, if there were any truth to them.
Be wary of any "education" that people who sell Yoni Eggs are offering. Ask questions and use the Google button to get yourself informed!
Problem #2: Jade is Porous and Difficult to Clean
One of the most common materials used in Kegel Eggs is Jade. Black obsidian is the other common material. However, the problem with these is that they're porous. This makes them extremely difficult to clean.
Inserting anything into your vagina on a regular basis that is difficult to keep clean is kind of a recipe for infection disaster. Think bacterial vaginosis, or yeast infections.
It's just not worth it to me, which is why I didn't use them more than a couple times just to try them out.
My vagina is currently happy! Why unbalance it with random things?
Be careful what material your Yoni Egg is made from. The dyed ones can leach out harmful chemicals, while some eggs are made from Crystals that contain things like lead, aluminum, sulphur, etc. These things should not be put into your vagina.
How to Care for your Yoni Egg
If you do want to clean you yoni egg well to prevent these kinds of infections, boiling it might be the best way to go. Boil it in a pot of water on the stove for five minutes.
Problem #3: Continual Contraction is Not Ideal
Some people wear yoni eggs while walking around and going about their daily activities. This causes the muscles in your pelvis to contract continuously.
The problem is that this isn't what they were designed to do! They should actually be relaxed most of the time. It's the same thing as lifting a dumbbell by doing a bicep curl and then not releasing it for hours.
Stress on my pelvic floor muscles? No thanks!
Problem #4: The Yoni Egg could Get Stuck
Some yoni eggs have holes through which you can insert dental floss to assist in removal. It's similar to how you leave the tampon string hanging out so you can remove it easily.
However, some don't have these holes which means removal isn't that easy. I mean, a menstrual cup is difficult enough to remove sometimes, and they are far less slippery, a lot bigger, and also have a stem to assist with this.
I personally found the yoni eggs really difficult to remove without the strings on them. Some doctors have seen people scratching their vaginal canal walls trying to remove Yoni Eggs, which obviously isn't ideal.
This can lead to infections, and even something like Toxic Shock Syndrome.
Yoni Egg Stuck: What to Do?
Okay, so your yoni egg is stuck in there. We'll give you some advice about what to do. But first of all, can it get lost?
The good news is that nothing as big as a Yoni Egg is going to fit through your cervix except during childbirth. Even a tampon is far too big to fit through there.
So, a yoni egg can get stuck, but it's in your vagina somewhere. Here's what to do:
Relax, and try again in an hour. Move around a little bit (walking or doing housework) and hopefully it will dislodge itself.
If this doesn't work, try pushing down with the muscles in your pelvis while reaching up with your fingers into your vagina.
Beyond that, get a trusted partner to help you out, or a doctor. They should be able to get it out in seconds. And don't worry about it, they help people get things of their vaginas ALL the time.
Help! My Yoni Egg is Stuck!
Problem #5: Yoni Egg Reviews, Mixed
Finally, the last problem with yoni eggs is that the reviews are very mixed, both among users and medical professionals. It's not really what we like to see.
For something like menstrual cups, most of the reviews of the top-quality ones will be very favourable. The negative ones will usually be related to sizing, and a specific product not working for a specific body type.
However, for yoni eggs, there is no one clear Yoni Egg Review to rule them all. Many people love them, but a lot of people hate them. Here are a couple examples of that:
Yoni Egg Review #1: 
Yoni Egg Review #2:
For products that we put into our vaginas, we certainly like to see an overwhelming majority of positive reviews. Yoni egg reviews? Not so much and it's certainly a mixed bag of positive and negative.
Problem #6: Uncertainty about Materials in Yoni Eggs
Another question related to, "Are Yoni Eggs Safe?" is what exactly they're made from, and how. There is no set of regulations regarding these products, and no way for the average consumer to find out.
Most of the materials in them are probably okay, but it's not really clear yet. More research is needed into the effects of putting jade, black obsidian, quartz, etc. into our bodies.
Beware of yoni eggs made from the following materials (Crystals), which are considered toxic for human use: angline, Chalcopyrite , Chrysocolla , Flourite, Galena, Labrodorite, Selenite, Serpentine, Sunstone, Tiger's Eye, Turquoise.
These products contain things like lead, sulphur, copper, and aluminium.
Also be wary of any dyed yoni eggs because some dyes are toxic to humans. These substances can leach out of the yoni egg into your bloodstream. The walls of the vagina are thin, and easily absorb toxic substances.
Problem #7: Poor Manufacturing Standards
Another thing to check before using a yoni egg is the quality of the design and finish. It should be buffed and polished.
Run your fingers around the egg and make sure there are no rough edges or imperfections. These things could lead to cuts inside your vagina. If there are imperfections, please return it to the manufacturer for a refund or exchange.
Problem #8: Possibility of Toxic Shock Syndrome?
One of the potential problems with yoni eggs is that risk of Toxic Shock Syndrome. Basically, any time you place a foreign object into your body, you increase this risk. Tampons, menstrual cups, medical devices, etc.
Some doctors mention TSS as a risk factor with yoni eggs. Is it a big concern though? Maybe. However, nobody has gotten TSS from a yoni egg so far.
The best advice we can give you if you do decide to use them is this:
Get a top-quality yoni egg made from a safe material (do your research)
Make sure your egg is a from reputable company
Take out the egg regularly to clean it, and take big breaks throughout the day (don't wear overnight for example)
Are Yoni Eggs Safe: Let's Sum This Up
Are yoni eggs safe to use? The jury is kind of out for this one. Some people believe they have some serious benefits, while others are dead set against them.
There's not much in the way of science to support either side. Talk to your doctor and make an informed decision for yourself about whether or not Yoni Eggs are safe.
Okay, so if you have problems such as not being able to achieve orgasm, pelvic floor difficulties, trauma, or an irregular menstrual cycle, you should consult a professional (doctor, gynecologist, psychologist, physiotherapist, etc.) and not Gwyneth Paltrow.
Even though I have some beautiful ones, I'll be using them for paperweights, not to put inside my vagina. 
What about Ben Wa Beads?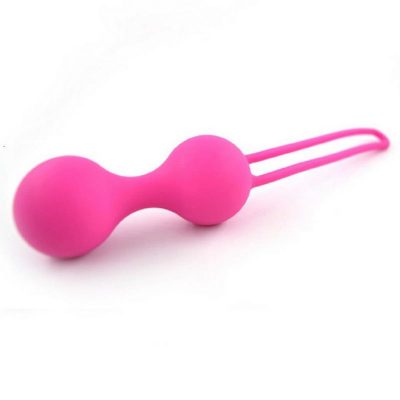 You may have heard about Ben Wa Balls (aka Ben Wa Beads, Kegel Balls, Kegel Beads) through watching or reading Fifty Shades of Grey. They are quite similar to Kegel Eggs, and have many of the same reputed benefits. In addition, they have many of the same drawbacks.
You can learn more about them here: What's the Deal with Ben Wa Beads?
Are Yoni Eggs Safe? Have your Say!
Leave a comment below and let us know whether or not you think yoni eggs/kegel eggs are safe.
Have you seen any benefits from using them regularly? We'd love to know!