Do you want to know how to use a SheWee? Then you're certainly in the right place. We're going to give you all the information you need to know about the SheWee in use when you're in bed.
Stuck in Bed? Not So Terrible with the Shewee FUD
Okay, so you're stuck in bed for a while for whatever reason. Like you literally can't get up. Someone bringing you drinks and snacks while you watch TV all day? It's not terrible.
What is terrible is how to pee, especially if you're like me and like to drink lots of water. One option is to use something like the Shewee FUD (female urination device). It's basically like a tube that fits around your urethra and allows you to direct urine away from you.
Normally, you'd use it when standing up to pee into a toilet or on the ground (when outside). However, it can also be used when laying down. It's a bit more difficult, but entirely possible so keep on reading to find out how.
For more details about what exactly the Shewee is, you'll want to check this out: Shewee FUD Review. 
How to Pee Lying Down with an FUD
Check out this short video below to find out how you can pee while laying down using a female urination device like the She Wee.
Using the Shewee FUD When Stuck in your Bed
Let's get into the details about how to use this female urination aid while in your bed. Quick tip before you get started. If you plan to use this post-surgery in a hospital or something like that, the company recommends practicing first in the bathtub. You could also do it outside on the grass if you have a discrete space in your backyard.
There are a few simple steps you can follow.
Lie on your side
Bend your top leg. You want your knee to be level with your hips and also touching the bed.
Put the Shewee against your labia, underneath the urethra. Make sure the outlet tube is pointed down (gravity!)
You can pee into a bottle or urine collection bag (like the Peebol)
Wipe off the Shewee with some toilet paper. It's best to clean it with soap and water every day or two if you're using it consistently.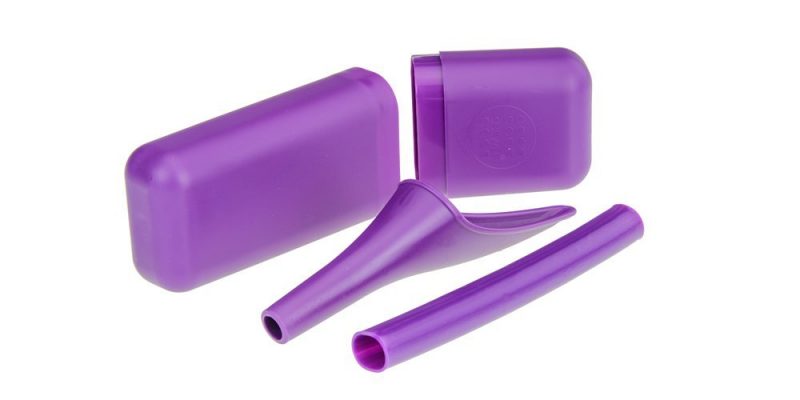 How to Use a SheWee in the Car?
Okay, so you're not stuck in bed, but you stuck in the car on a long trip of some kind. How can you use the She Wee to pee while sitting down? Let's find out.
The first thing to keep in mind is that it's not so easy to do. If at all possible, you really should get out of the car and use this device while standing up for best results.
However, if you must use a SheWee for peeing while in a car, here's what you can do.
Make sure you're not driving, or that you've stopped and have the brake on
Position yourself at the front of the seat so that the SheWee is pointed vertically downwards
Hold the device with one hand and a bottle of some kind to collect the urine with the other hand
Urinate and then wipe off with the funnel
The key thing about peeing while in the car is to remember that gravity is certainly a thing. You'll have to position yourself so that you can point the device downwards, or you'll leak all over the seat of your car.
What do you think about the Shewee FUD?
What are your thoughts on using the Shewee FUD when bed bound? Have your done it? Plan to try?
Any tips for having the best experience with this? Leave a comment below and let us know.
Also be sure to give this article a share with anyone who is stuck in bed and may find it useful.