The company behind the Shewee female urination aid also makes a "pocket sized toilet," the Peebol. It can be used by itself, or in conjunction with the She Wee, depending on your needs.
Do you need a toilet that can fit into your pocket? And, is the Peebol the best one for you? Keep on reading to find out. Or, just check it out for yourself over on Amazon:
How Does the Peebol Work?
The Peebol is basically a bag with crystals in it. Once mixed with liquid, they trap odours and turn into a gel.
Once opened, it can be resealed and then used again. Most people can get two uses out of it.
Do I Need to Use the Shewee Along With It?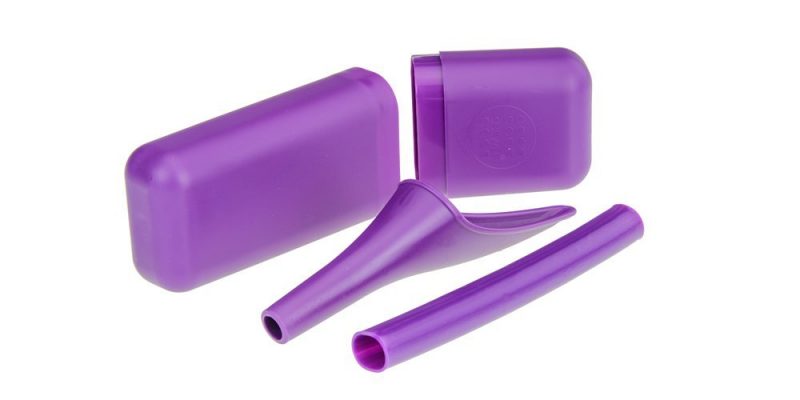 If you're a guy, it's very easy to use the Peebol without a pee funnel of some kind.
However, if you're a lady, then you'll probably need to use something like the Shewee as well. It's basically a funnel or tube that you place under your urethra. When you pee into it, it directs the urine away from your body.
Why Do I Need this Thing?
Seriously, the sky is kind of the limit for situations when you might want to use a portable toilet like the Peebol. But, here are a few of the most common situations that we can think of.
With Kids
Do you have kids who get car sick? This thing is gold. They can throw up into it, and the crystals will activate, turning the vomit into a gel. Close up the bag and your car won't stink. Plus, there's nothing to clean up because you just have to throw away the bag at the next opportunity.
In the Tent
Do you like camping? Then you'll know that it rains sometimes. But, what do you do when you have to pee in the middle of the night and you don't want to get wet and cold? You use the Peebol, preferable along with a pee funnel of some kind.
Long Rides with no Toilet
Do you have to go on a long bus, car or train ride and have no access to a toilet? Combine this pocket sized toilet with a pee funnel and you'll be good to go.
Rock Climbing 
Many rock climbers use a female urination device, but the problem is what to do with the urine. Do you pee freely down the rock face? That's not so nice for the people who come behind you.
One solution is to pee into a bag like the Peebol. Try it out and see if it works for you.
Customer Reviews for the Peebol
"The volume is for two uses, but the plastic is so thin that you need to careful. There can sometimes be tiny leaks in it when it's 100% full. It's not really a big deal, but something to be aware of."
"I love this thing for peeing in the tent in the middle of the night when I'm camping. It's super convenient."
"Be careful when peeling off the blue strip so that you don't damage the bag. Besides that, it works great and I'm happy with this product"
Peebol Pros
Biodegradable + recyclable
The crystals lock away odour
Very light in weight
Folds flat for easy storage and carrying
Peebol Cons
It's a disposable product
The plastic is very thin, so you have to careful when opening the bag, and also when filling it to capacity
Can get quite expensive if used regularly
The Takeaway on the Peebol
If you're looking for a solution on how to pee when you don't have access to a toilet, then the Peebol may be one of your best options. It's a top-quality product that works well and is also reasonably priced for what you're getting.
We love that the crystals turn liquid into a gel. This makes it a lot easier to deal with, and far less prone to leaking. Not that you can turn it upside down, but if you lean the Peebol up against something, it's not so likely to tip over and leak.
Another reason to get this portable toilet is for car sick kids. It has a huge advantage in that you just have to throw it out, instead of having to clean something.
You can check out this pocket sized toilet over on Amazon:

Have your Say about the Peebol from She Wee
What do you think about the Peebol? Leave a comment below and share your thoughts with us.
Last update on 2021-04-17 / Affiliate links / Images from Amazon Product Advertising API