Here's the all-important question that you probably want to know. Can I pee in the car while driving?
Let's find out. But, the quick preview. If you can pee into a cup at the doctor's office, then you can probably pee in the car! Keep on reading.a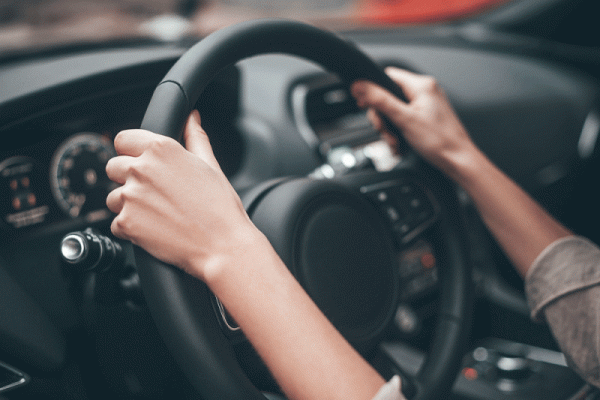 While Driving: Not a Great Idea
Pulling over is the best solution if you have to go pee while driving. It's much easier than trying to navigate a urination aid of some kind, not get pee all over your car or clothes, and then try not to get into a traffic accident! Seriously, we almost can't imagine something more difficult.
Just be sure to pull over in a safe place that's protected from traffic. You might also want to use your car door for some privacy. Or course, you could also use a female urination aid that'll help you pee while standing up if you're not a guy.
If a Passenger: It Could Work. Here's How to Do It
However, if you're a passenger in a moving car, then it is indeed possible to pee while someone is driving. You'll just have to use a female urination aid. You have two options: a disposable one with an attached bag, or a reusable one with wide-mouthed water bottle.
We'l give you a few details about both of them.
#1: Travel Jane Disposable Portable Urinal
If you want to pee in the car while it's moving, then consider the Travel Jane. It's basically a pouch with crystals in it that turn liquid into gel once it comes into contact with it. There's a funnel on the opening of the pouch that you can use to position under your urethra.
On land, it's super easy to use while standing up. In the car, it's slightly more difficult. You have to take care to make sure the pee is traveling downwards. Remember, gravity is a thing! Most people have to move forward to the edge of their seat and hang their buttocks off a little bit to get it to not spill.
For guys, it's actually very easy to use something like this. Just aim into the bag, and then seal it up when you're done!
Learn more about the Travel Jane
If you want to know more about it, you'll have to check out our full review: Travel Jane Disposable Urinal.
Or, does it sound like exactly what you need to pee in the car with style? Then you can head over to Amazon to pick one up for yourself:

#2: SheWee Female Urination Aid
SHEWEE Extreme (Purple) - Multiple Colours Available
✅ THE ORIGINAL – Female Urination Device since 1999, accept no imitations!
✅ DON'T SQUAT - Stand up and take control, and avoid the filthy festival portable loos, and grim...
✅ DISCREETLY & EASILY – Have a wee whenever, and wherever you need to, without removing your...
✅ REUSABLE & LIGHTWEIGHT – Weighs in at just 100g, made from recyclable Polypropelene. Use your...
✅ PRACTICE MAKES PERFECT – Practice in the shower before taking your Shewee on the road!...
Disposable urinals have the advantage over reusables for peeing in the car. This is mainly because you need somewhere to collect the urine and the bag is already included. Plus, you can seal up the bag when you're done and then just throw it in the trash at the next rest stop.
However, if you want to opt for the eco-friendly approach, then you'll need something like the She-Wee. You'll want to combine it with a dedicated, wide-mouthed water bottle like a Nalgene.
To pee in the car, you'd follow the same steps as above:
Position the pee funnel under your urethra, making sure you're taking gravity into account.
Point the end spout into your water bottle. This can sometimes be a bit tricky because most pee funnels require two hands to hold them in place.
Seal up your water bottle, and throw the urine out the window at the next available opportunity!
Find out more about the She Wee
The She-Wee is one of our most popular urination aids for women. To learn more, please check out our full review: She Wee Urination Aid. 
Or, you can head over to Amazon to buy one today:

What's the Best Female Urination Device for Car
In reality, most of the pee funnels are quite similar in terms of how effective they are for using them in the car. You can check out our top picks in this handy comparison chart below:
Learn more about Peeing in the Car
One Final Option: Adult Diaper?
This is perhaps the best option if you know that you're going to be driving for a ton of hours, but know that you either can't pull over on the side of the road, and/or have no privacy.
Just slip on an adult diaper before hitting the road, and try to avoid using it if possible. However, if desperate, use it and take it off at your next earliest convenience. A small pouch of wet wipes can help with the clean-up if a shower is not possible.
Have your Say!
What are your thoughts about the best pee funnel to use while in the car? Leave a comment below and let us know your thoughts.
Also be sure to share this on Pinterest, Facebook, or Twitter.
Last update on 2021-04-17 / Affiliate links / Images from Amazon Product Advertising API