SHEWEE Extreme - Lilac
✅ THE ORIGINAL – Female Urination Device since 1999, accept no imitations!
✅ DON'T SQUAT - Stand up and take control, and avoid the filthy festival portable loos, and grim...
✅ DISCREETLY & EASILY – Have a wee whenever, and wherever you need to, without removing your...
✅ REUSABLE & LIGHTWEIGHT – Weighs in at just 100g, made from recyclable Polypropelene. Use your...
✅ PRACTICE MAKES PERFECT – Practice in the shower before taking your Shewee on the road!...
The She wee is one of the most popular brands of female urination aids. Basically, it allows someone to pee while standing up.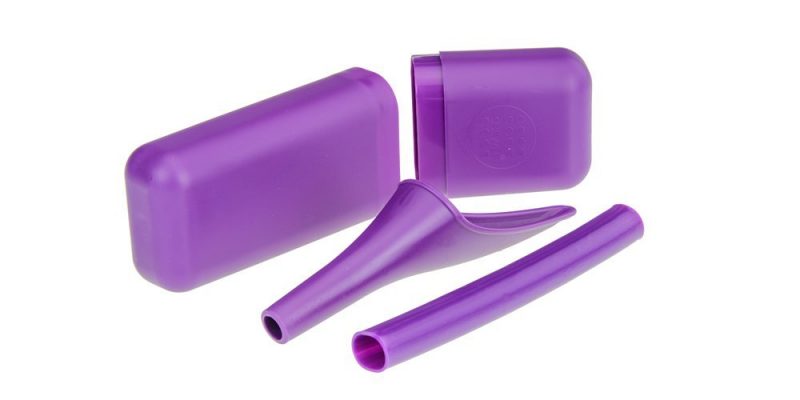 When Can I Use the She Wee?
It's useful for a variety of situations including the following:
When you don't want to sit, or hover close to a disgusting public bathroom seat
If you want to pee inside a tent when camping
For long distance truckers, pilots, etc.
Anyone who does outdoor activities
People in jobs who wear a ton of gear that they don't want to take off to go pee (riot police, military personnel, etc.)
Those who are bed bound
Trans people
Etc.
For more details about this female urination device, you'll want to check out this article: Shewee Review. 
How to Use the Shewee
Let's get into the details about how to use the Shewee so you don't get pee all over your pants, legs or shoes!
A quick tip before we get started. It's strongly recommended that you practice in the shower with a pee funnel first. There is certainly a learning curve to using one, so do this first to prevent disaster.
A Few Simple Steps for Using the She Wee
The good news is that once you've got it, you've got it. Here are the simple steps to follow:
Undo your pants, and push your underwear to the side.
Place the She Wee against your body (gently). The pointy end should be touching your body, but the front rounded end should not (it should be a few mm away). This will ensure that the She wee does not overflow.
Aim the Shewee away from your feet, and remember gravity (the tube should be pointed down).
Pee, and that's about it! The surface of the She Wee is water repellant and shouldn't require much in the way of care.
Put the She Wee back in the case.
Want to pee in the car with the SheWee while driving? You can find out more here: How to Pee While Driving with a Pee Funnel.
I want to Buy the She Wee!
The Shewee is the female urination device for you? We LOVE it. It's a top-quality device at a very reasonable price. It also works better than much of their competition, which will leave you without pee all over your legs or shoes.
Another thing we love is that the She Wee allows you to pee without pulling down your underwear, unlike many other similar devices. You just have to push them to the side.
The company has been around for years, and there are hundreds of excellent customer reviews on Amazon. This is usually a great indication of a product that actually works.
The best place to find the She Wee is over on Amazon. Prices are very reasonable and shipping if fast and free/cheap. You can check it out for yourself:

How to Use the She Wee: Any Tips? 
Do you have any tips or advice you'd like to share with us about using the She Wee? Leave a comment below and let us know.
Last update on 2021-04-17 / Affiliate links / Images from Amazon Product Advertising API