So you hike like a girl? Congratulations! You're tough, strong, and all-around awesome.
But, how do you pee and have your period in the backcountry? Keep on reading for the details you need to know about how to do it in style.
Periods in the Backcountry
Hike like a girl: period style. Except you uncover the dreaded bad news that your period just happens to coincide with that amazing trip you're just planned into the wild. What do you do?
Tampons or Pads
One option for dealing with your period in the wilderness are pads and tampons. If you do this, the best option of the bunch are the tampons without an applicator. They are small, light and don't have a lot of extra waste that you have to deal with.
Pads and tampons are not our favourite option though. They main issue is the waste they create. Do you really want to carry that stuff around in a Ziplock bag for a week? We sure don't. Burying it? Not a great idea for the leave no trace thing.
Menstrual Cups
Our favourite option by far is a menstrual cup. They are reusable, eco-friendly, affordable, and also better for your health.
The best thing for outdoorsy people is that they create no waste. You just have to empty out the cup, clean it and then reinsert it.
Here are a few tips for keeping things clean and sanitary.
Be sure to a cup at home for at least a few cycles to get the hang of it before trying it on a big wilderness adventure.
Wash your hands with potable water before handling a menstrual cup. I know, it's not so easy in the wild. But, the good news is that you can wear a menstrual cup for up to 12 hours, and they have a capacity 3x more than a jumbo tampon. This means you can time it so that you're at a water source.
You should empty your menstrual cup into a cat hole that is 6-8 inches deep and away from any water source.
It's easy to clean your menstrual cup in the wild by spraying it well with potable water. You could also use some natural, mild soap. Or, check out the Lunette Cup Wipes which are designed just for situations like this.
Sterilize your cup when you get home by boiling it in a pot of water on the stove for 5 minutes (more details here about cleaning a cup).
Check out some of our favourite menstrual cups here:
Which Menstrual Cup do you Recommend?
Is there a specific menstrual cup that you recommend? Great question! There are plenty of brands beyond the Diva Cup that you might want to consider.
A good starting point is this Menstrual Cup Quiz. There are a few simple questions and then you'll get a recommendation for the best cup for your body type and needs.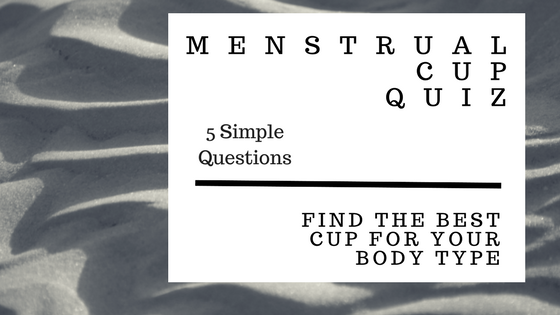 Best Pee Funnels
| Best Overall | Easiest to Use | Smallest and Lightest | Best Disposable |
| --- | --- | --- | --- |
| pStyle Female Urination Device | Outdoor Life Pee Funnel | Pibella FUD | Travel Jane disposable |
| | | | |
| Light, compact and just works well overall. | Large funnel for ease of use. | Fits right under your urethra. | Funnel, with self-contained bag. |
| Check Price | Check Price | Check Price | Check price |
Peeing in the Wilderness
So you like to hike like a girl? Then you'll also have to pee like a girl in the wilderness, especially if you're like me and like to stay hydrated.
Here are a few tips for how to do it in style.
Squatting vs. Pee Funnel
A lot of people squat, but depending on your technique, it can be an easy way to pee all over your shoes and pants. Gross.
Have you ever wanted to pee like a guy? It just seems so easy right? It is. The good news is that it's also possible for you! You'll just need to use a female urination device/pee funnel. Here are a few tips for making it work:
Try at home first in the shower because there's a learning curve with pee funnels
Don't pee into the wind (trust us on that one)
Remember that gravity is a thing. Point the funnel downwards
Compare Pee Funnels
Do you want to check out some of the most popular brands of pee funnels? Check out this comparison chart:
Peeing In the Tent
You're out camping, but it's pouring rain. What do you do if you have to pee in the middle of the night?
We love to combine a pee funnel with a dedicated, wide-mouthed water bottle. More details here:
Pee Rag
Some people like to use a bandanna as a pee rag instead of toilet paper. They put it on the outside of their pack and let the UV rays from the sun do their work.
Is this disgusting? Not so much. UV rays are a serious disinfectant. Our guess is that a pee rag is probably cleaner than rolls of TP in a public bathroom.
High Flow Water Bottle
If you use a water bottle that squirts a stream of water, you could use this to clean yourself after peeing.
Toilet Paper? 
This is probably our least favourite thing about peeing in the wilderness when we hike like a girl. You can bury it, but be sure it's at least 6 inches deep and away from any water source.
Or, pack it in a ziplock bag to dispose of later. Whatever you do, don't just throw it on the ground. Gross!
Hike Like a Girl: Have your Say!
When you hike like a girl, how do you deal with peeing and your period? Leave a comment below and share your top tips with us.