Are you looking for more information about this new menstrual cup, the Dandelion Cup? Then you'll need to check our review, packed with information to help you decide if it's the right period cup for you. Keep on reading!
Dandelion Menstrual Cup Review
Here are a few quick facts about the Dandelion Menstrual Cup:
Made in China (designed in the USA)
2 sizes (small and large), with an uncertain capacity
Made of medical grade silicone
Includes a cloth storage bag, and instruction booklet
The company also makes menstrual cup wipes, and a washing container
Some good initial reviews on Amazon
One of the firmer menstrual cups
Variety of colours
It can be difficult to find the Dandelion in stores, which is why we recommend shopping online. You can find it here: Dandelion Menstrual Cup on Amazon.
Dandelion Period Cup Introduction
In the world of menstrual cups, there are two kinds: the top-quality menstrual cup brands, and then the cheap menstrual cups that are usually made in China. Where does the Dandelion Menstrual Cup fit?
The company does have a decent website, which is usually an indication of a good menstrual cup. However, upon closer inspection, the lack of real information about sizing, usage, leaking help, etc. is more indicative of a cheap period cup.
The company is also pretty sneaky about where the Dandelion Cup is made. They say, "Designed in the USA and made with love in PRC." PRC = People's Republic of China.
In terms of pricing, it's similar to something like the Anigan EvaCup or Lena Cup, which are both excellent, made in the USA menstrual cups. Clearly the company is trying to fit into this category.
However, in reality, the Dandelion is just an overpriced, low-quality made in China menstrual cup.
Where to Buy the Dandelion Menstrual Cup
The Dandelion Menstrual Cup is very difficult to find in stores, which is why we recommend shopping online. You can find it easily on Amazon:

What People are Saying about the Dandelion Cup:
"I like this one more than the Lunette Cup, but it still leaks a little bit for me. I need to keep looking I think!"
This cup worked well initially and I found that it didn't leak like some of the other menstrual cups that I've tried. However, durability is definitely an issue as the stem broke off after only 8 cycles. I've never had that happen before with some of the more expensive cups I've tried."
"It's very rigid (more than the Diva Cup) and I just didn't find it that comfortable. It was also difficult to find the right fold to insert this thing. I'll definitely be going back to the Diva Cup, or trying another menstrual cup."
2 Sizes of Dandelion Menstrual Cup
There are two sizes: 1 + 2. The company recommends size 1 (small) for people with a light flow, and size 2 (large) for people with a heavy flow.
Size 1 (Small)
Diameter: 41 mm
Length: 73 mm
Capacity: ?
In terms of sizing, the small is kind of comparable to the small size Diva Cup, although it's slightly longer than average.
Size 2 (Large)
Diameter: 70 mm
Length: 73 mm
Capacity: ?
Maybe it's a typo on the part of the company, but the list the diameter of their large as 2 3/4′, which equals 70 mm. This is a HUGE menstrual cup, as most large menstrual cups have a capacity of 45-47 mm.
It could be a mistake? It could be just a ridiculously big menstrual cup. Perhaps we've converted the numbers wrong?
We don't actually have the size large in our hands to tell you for sure. Please comment below if you do have some solid information about this.
Dandelion Menstrual Cup Capacity?
Despite scouring the company website, Amazon description and other reviews online, we were unable to figure out the Dandelion Menstrual Cup capacity, which seems like a major oversight.
Even the cheap menstrual cups from China usually list this information.
Pros:
Includes a cloth carry bag
Some decent initial reviews on Amazon
A firmer menstrual cup, which may work well for beginners
30 day money-back guarantee (but cup must be unused)
Cons: 
Made in China (the company is a bit sneaky about this, saying it's "designed in the USA and made with love in PRC").
No information about capacity
Quite expensive for a menstrual cup that is made in China
Appears to be another low-quality menstrual cup that's made in China
The large size diameter is huge. Perhaps a typo, perhaps it's really the biggest menstrual cup, by far on the market today.
What about Sex with the Dandelion Menstrual Cup?
The Dandelion Cup, along with all other "regular" menstrual cups like the Diva Cup or Lena Cup are not suitable for any sort of penetrative sex. This is because they sit low in the vaginal canal, are too firm, and rely on suction to prevent leaking.
Even if you did try to have sex with a menstrual cup in, you (and your partner) would likely find it very uncomfortable, and also quite messy.
If you want to have non-messy period sex, then we recommend a different style of menstrual cup. Previously, your best option were Instead Soft Cups or Flex Menstrual Discs. They are very similar products that are actually made by the same company.
These products sit right below your cervix and they are flat, flexible discs. They work well for penetrative sex and most people report not being able to feel them.
However, the main negative to Soft Cups of Flex Discs is that they're disposable. It's for this that we recommend a new product, the Intimina Ziggy Cup.
In design and function, the Ziggy Cup is very similar to Soft Cups, but it's reusable. We're ALL about reusable, eco-friendly, affordable period products so we're very happy to recommend it.
You can check out the Ziggy Cup for yourself over on Amazon:

Dandelion on the Go Wipes
One of the major negatives of menstrual cups is how to clean them when you're in a public bathroom. There are, however, a few products that can help you out with this, including the Dandelion on the Go Wipes.
At home, it's very easy to clean your Dandelion Cup. You remove your cup, empty the menstrual fluid into the toilet, wash it with soap and water (or menstrual cup wash) in the sink, then put it back in.
However, in a public bathrooms, it's not so easy. Most people just wipe the cup out with some clean toilet paper. Others bring a water bottle into the stall with them and use that to clean their cup and hands. Then, they clean their period cup extra well when they get home.
However, you could also consider something like the Dandelion on the Go Wipes. They're kind of like baby wipes, but for menstrual cups. They can also be used to clean up the mess on your hands so it's nice to have a few of these in your purse or backpack.
Where Can I Get Them?
Check them out on Amazon here by clicking the button below. You can take a look at the best prices, and also don't forget to see if this product is eligible for fast, free shipping with a Prime membership:

The Takeaway on this Cheap Menstrual Cup
The Dandelion Menstrual Cup is a cheap cup from China that should probably be avoided. We don't love the lack of information on the website, or Amazon description. For example, we'd love to know:
The capacity of the cups
Whether the massive diameter of the size 2 (large) is actually that big (we suspect not)
Some more details about where the cup is made (PRC= China?)
More information about the materials in the cup
It appears to be similar to other cheap menstrual cups you can find on Amazon for $5-10, although the Dandelion is double that price. It also appears to be firmer than some of the other ones, enough that some people found it uncomfortable.
To sum it up, we don't really recommend the Dandelion Menstrual Cup, and would instead stick with one of the higher-quality menstrual cup brands.
To find the right cup for your body type, check out the menstrual cup quiz (details below).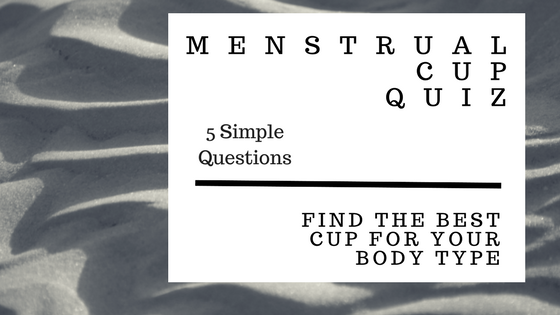 Take the Menstrual Cup Quiz
5 simple questions, 1 minute of your time, 1 easy answer for which one is the best menstrual cup for your body type. Check it out here:
Have your Say about the Dandelion Menstrual Cup
What do you think about the Dandelion menstrual Cup? Is it a buy? Too expensive for what it is?
Leave a comment below and share your thoughts with us. We'd love to hear from you.
Also be sure to give this article a share on Facebook, Pinterest, or Twitter. It'll help other people interested in menstrual cups, like yourself find this useful resource.
Last update on 2021-04-17 / Affiliate links / Images from Amazon Product Advertising API