Interlabial Pads: What are They?
Interlabial pads are worn externally (outside the vagina) and are held in place by the labia. They are usually leaf or petal shaped, made from fabric and are kind of a cross between a pad and a tampon. The best part about intralabial pads are that they're made of cloth and are reusable.
They come in a variety of sizes and absorbencies, colours and shapes. You might consider using them if you have a very heavy period, or want to prevent blood leaking through your butt crack while laying on your back with your feet up.
Interlabial Pads: Introduction
Okay, so here's a menstrual product that maybe you've never heard of before—interlabial pads. A lot of people make their own, and you can also buy them online (Check them out here on Amazon).
The company that sells them says that they're a "cross between a panty liner and a tampon." Inter-labial pads are designed to be worn lengthwise between the labia folds. They can catch leaks before they happen, especially if you tend to "gush" menstrual fluid in a forceful kind of way.
Very Heavy Period? Here's How you Can Sleep through the Night!
If you have a very heavy period, you'll probably want all the protection you can get! You'll probably want a high-capacity menstrual cup, overnight cloth menstrual pad, and then you can get an extra layer in there with an interlabial pad.
By combining these feminine hygiene products, you might actually be able to sleep through the night of your heaviest flow. That's some serious capacity.
Interlabial Petals: Help Prevent Leaks
Another reason to consider using interlabial cloth menstrual pads is if you like to lay in bed with your knees up. Maybe you've had the experience of menstrual fluid leaking out between your bum crack and getting all over your clothes, or bed sheets.
Interlabial cloth pads can prevent that kind of leak by catching the menstrual fluid before it has a change to escape out the back end.
Where to Buy Interlabial Pads
Look on Pinterest for patterns if you prefer to sew your own cloth menstrual pads. Or, check out these interlabial pads for sale on Amazon.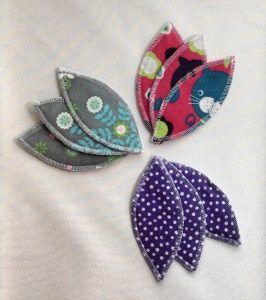 Intralabial Pads for Light Incontinence?
If you have some light incontinence, or vaginal discharge, intralabial pads can be a nice option for you. While you can use disposable pantyliners, or reusable cloth pantyliners, try these internal pads out for yourself and see if they work better for you.
We love that intralabial petals are more of an internal item. This can feel more comfortable for some people, especially those who are pretty active.
They might also work better for people with very large labia. In this case, pads may rub against them and feel quite irritating.
Try out interlabial petals to see if they work better for you than something like a pantyliner.
For even more incontinence options, check this out: Top 5 Eco Friendly Incontinence Products.
An Introduction to Inter Labial Pads
What about an Interlabial Pad for Discharge?
—>Find out Everything You've Ever Wanted to Know about Vaginal Discharge Here<—
If you experience vaginal discharge, you may be looking for some solutions to deal with this. First of all, we recommend checking with your doctor because there are often some simple solutions to this common problem.
Beyond that, you may want to consider Interlabial petals They do a great job at absorbing the fluid, and not getting in on your underwear or clothes.
How to Use Them
The good news is that they are quite easy to use. Here's what you need to do:
Fold the pad in half (you can also roll it into a tube)
Separate your labia
Put the pad between the folds on either side (in the center)
For best results, position the pad so that it's under your vaginal canal opening
The labia will hold your cloth pad in place
Be sure to remove these cloth pads for urination. Make sure to not let them fall into the toilet! It's easy to do.
How to Fold Them
Can Everyone Use Interlabial Petals?
Most people find that interlabial cloth pads work pretty well for them. However, depending on your labia, you may experience a couple difficulties with them:
They don't really stay in place
They rub and irritate your skin
It's hard to predict if you'll fall into either of these categories of people until you try interlabial cloth petals for yourself. But, if they don't work, they don't work for you. Switch to something like reusable cloth pads and don't worry about it!
Care and Cleaning of Interlabial Pads
Cloth pads are a reusable product. This is good news for the environment, as well as your bank account! You do, however, have to spend a bit of time taking care of them.
If you don't mind a bit of staining, just throw them in the wash with your regular laundry. They are made of 100% cotton, so will feel softer the more you wash them.
If you want to prevent staining, then soak them after use in cold water. You could also use a commercial stain remover spray.
The instructions are the same as for cloth pads, so check out this article: Care + Cleaning of Cloth Menstrual Pads. 
Shop Now
It is indeed possible to sew your own intralabial pads. However, if you're like me and don't even know how to turn on a sewing machine, then buying might be a better option!
Check out these ones over on Amazon. They are able to absorb 3-5 ml of fluid, the same as a mini-tampon.

Interlabial Pad Pros
Reusable (good for the environment, can save money over the medium-long term)
Great for people with a heavy flow (extra layer of protection)
Possible to be used for light incontinence
Can absorb 3-5 ml of fluid (same as a mini tampon)
Can reduce menstrual fluid coming out your back side
Reasonably priced, or make your own
Interlabial Pad Cons
Very few reviews of this product on Amazon
Initial up-front cost is higher than for disposable panty-liners
Some people's anatomy (small labia) may not hold them in position very well
They may cause some irritation for some people.
A little bit uncomfortable to walk around in them, and you certainly wouldn't want to use them during exercise.
It can be easy to "lose" them into the toilet if you forget about them before peeing
Inter Labial Pads vs. Reusable Cloth Pantyliners
If you're considering using an Interlabial Pad, you might also be thinking about reusable cloth pantyliners. Which one is right for you? Do we recommend one over the other?
Interlabial Pads and Reusable Pantyliners are similar in a number of ways:
Both can work for spotting, light flows, discharge or light incontinence.
Care for both these products is exactly the same.
They can each offer a bit of extra protection, but are not really that absorbent.
As far as which option is best? We'd recommend reusable pantyliners hands down. They're far easier to use (they fit into place with snaps on the wings), and stay in place much better than an Interlabial pad.
Just about anybody can potentially make a cloth panty liner work for them. Whether or not you can use labia pads really depends on the shape and size of your labia.
The other reason why you might want to use a pantyliner instead of interlabial pad is that they stay in place better. You can move around, exercise, go pee and not have a second thought about it. An interlabial pad? Not so much.
Compare Reusable Cloth Pantyliners
Check out a few of our favourite options for reusable cloth pantyliners:
Interlabial Pads vs Period Panties
If you're looking for some extra protection for bleeding (menstrual or post-partum), spotting, incontinence, or vaginal discharge, you may be considering interlabial pads. But, how do they compare to period panties? Let's find out!
Most people use menstrual underwear as a back-up to something like a tampon, pad or menstrual cup. They're basically just an extra leak-proof layer of protection to prevent any embarrassing accidents.
Some of the most popular period panty brands you may have heard of include Thinx, Modibodi, Dear Kates, and Period Panteez.
As far as how they compare to Interlabial Pads, we personally prefer period panties. They perform a similar function (extra protection), but are far more secure. Plus you don't have to deal with them when going to the bathroom because you just pull them down like you would regular underwear.
The major negative is that period panties are quite a bit more expensive than intralabial pads, often 3-4x more. Is it worth it? Perhaps yes, perhaps no. It's up to you!
But, here are some of our top picks for period panties:
The Best Period Panties
Are Interlabial Pads Comfortable? 
A common question that people have is whether or not Interlabial Pads are comfortable. In our experience, not really. If you're wearing them while you sleep, they're not a bad option.
Besides that, if you're moving around at all, you can really feel them in there. They are certainly not a great choice if you're doing any sort of physical activity, especially running.
The Takeaway on Interlabial Pads
If you're looking for an additional form of period protection, then consider using them While not popular, they do have some devoted fans of them. In particular, the following people may want to consider them:
Heavy Period. They can offer an extra layer of protection
Back Sleepers. Prevent menstrual fluid from escaping out the back and staining your pajamas or bed sheets.
Lay in bed with knees up, reading or watching TV. Same reason as above.
Light incontinence. Some people like them better than pantyliners for this.
If you fit into any of these categories, or just like to try out interesting feminine hygiene products, then consider interlabial pads. You can check them out for yourself over on Amazon:

Have your Say!
Do you use an interlabial pad during your period? Loved it, hated it, or something in between? Have you ever heard of this product before?
Leave a comment below and share your thoughts with us.
Also be sure to give this post a share on Facebook, Twitter, or Pinterest.
Last update on 2021-04-17 / Affiliate links / Images from Amazon Product Advertising API