Aneer Menstrual Cup Review: Summary
a href
One of the cheapest menstrual cups
Made in China from silicone
2 sizes of Aneer Cup (small and large)
Colour: clear
Aneer Care Cup is extremely soft
Not much information about the Aneer Cup online
The Aneer Menstrual Cup can be found easily on Amazon.
Aneer Menstrual Cup: An Introduction
The Aneer Menstrual Cup can be found on Amazon for about 1/3 to 1/2 the price (see the Aneer Cup on Amazon here) of the more expensive cups like the Lunette Cup, FemmyCycle or Diva Cup.
We agree with you! Some of these cups we just mentioned are indeed quite expensive. It only makes sense that you might be looking for some cheaper options for a menstrual cup.
If you're looking for an economical choice for a period cup, you may be tempted to buy this cheap menstrual cup. There are plenty of cheap cups that we certainly don't recommend here at Reusable Menstrual Cups including the Vida Cup,  and the BodyBay Cup.
Keep on reading for our full review to find out if the Aneer fits into this category.
Sizes of Aneer Menstrual Cup
There are two sizes of Aneer Care Menstrual Cup: Small and Large.
Small Aneer Cup
The small size is recommended for people with light to moderate flow, younger people, or those who haven't had sexual intercourse.
Length: 65 mm
Diameter: 40 mm
Capacity: 24 ml
The small Aneer Care Cup is actually quite short, and small in diameter. However, the capacity is slightly below average at only 24 ml (compared to something like the Diva Cup at 30 ml).
Large Aneer Cup
The larger Aneer menstrual cup is recommended for moderate to heavy flow, those who have given birth vaginally, or people who've had sexual intercourse.
Length: 68 mm
Diameter: 45 mm
Capacity: 34 ml
The large Aneer Care menstrual cup is slightly shorter than average at 68 mm (the average length is 70 mm). The capacity is similar to other large menstrual cups at 45 mm.
The capacity is slightly higher than the average of 30 ml. This can make it a nice choice for someone with a heavy flow.
Buy the Aneer Care Cup:
The best place to buy the Aneer Menstrual Cup is on Amazon. You can check it out by clicking the button below:

Aneer Menstrual Cup Pros:
The price, it's less than half what some of the more expensive cups cost.
Very soft, so can work for you if you find that some of the stiffer menstrual cups are uncomfortable.
The company does have a website with basic information about the Aneer Cup.
Aneer Menstrual Cup Cons:
Very soft, which can make it difficult to get open. It doesn't just "pop" open and into place easily.
Quite long, so may have to trim the stem if you have a low-cervix. Or, consider a low-cervix menstrual cup instead.
It's a cheap menstrual cups made in China with little information about the manufacturing process, or materials.
You can find the Aneer Cup on Alibaba (a wholesale distributor) for $0.25 a piece. This is not an indication of a high-quality product that you should be putting into your body.
Product description on Amazon has no details whatsoever. This is usually a huge red flag in the menstrual cup world.
Although the overall user rating on Amazon is decent, many of the reviews appear fake and over the top. For example, "Best Amazon purchase yet." "These cups are WONDERFUL!" If you take a look at the high-quality cups on Amazon, you don't see these kind of over the top reviews.
Aneer Care Menstrual Cup: First Impressions
What People are Saying about the Aneer Care Cup
"I got the large size, and it's way too big, and also too soft. I could never really get it to open when it was inside of me. It's more like an XL cup."
"I wanted to love this product, but I could never really get it to fit well and not leak. I ended up switching to the Lena Cup and have been much happier with it overall. It was just easier to insert correctly."
"The Aneer Care Cup takes a really long time, since it seems to ship direct from Asia. If you live in the USA like me, I'd recommend sticking with one of the cups made in the USA."
How to Use the Aneer Cup
If you're new to menstrual cups, it can a bit intimidating to get started with them. They can seem really big, and scary!
The most important thing to remember if you're trying a menstrual cup for the first time is to not give up too easily. It takes most people 3-4 cycles before they feel really comfortable with them.
Here are a few simple steps you can follow to use the Aneer Mooncup:
Wash your hands well before handling the cup. Also, wash the cup with mild soap (or menstrual cup wash) and water.
Fold the Aneer Cup (see video below). Some folds work better than others for a certain cup and body type, so try a few different ones.
Insert the cup, pointing it back and down, not up towards the sky.
It should pop open, but if it doesn't, you can jiggle it around, or twist it one direction, then the other.
You can leave it in for up to 12 hours, or change it more frequently if you have a heavy flow.
Remove the cup by squeezing in at the base with two fingers, and then pulling it out. If you can't reach the base, pull down gently on the stem until you can.
Once you take the Aneer Cup out, wash it, then reinsert it.
How to Clean the Aneer Care Cup
Menstrual cups do cost a bit more money than tampons up-front. That's why it makes sense to take care of them well so that they will last as long as possible.
Here are a few tips for taking care of your Aneer cup.
Be sure to wash your cup well with a mild soap or menstrual cup wash every time you take it out to empty it.
Make sure you wash your hands before handling the Aneer Care Cup.
Don't put the Aneer Cup in the dishwasher, or use any harsh cleaning agents like bleach.
You can boil your menstrual cup in a pot of water on the stove for 5 minutes if you want to deep clean it. Most people do this at the end of their cycle, or before the beginning of their next one.
You can also use an old toothbrush to scrub the holes, and nooks and crannies of your Aneer Care Cup if necessary.
Some discolouration of menstrual cups is normal, and not a reason to replace the cup.
More information about how to clean a menstrual cup here. Or, check out this short video below:
Two Kinds of Soft Menstrual Cups
In the world of soft menstrual cups, there are two different kinds. The companies that purposely make their cups soft to cater to people who find something like the Diva Cup too stiff, and then those who just use really crappy silicone.
The First Category of Soft Period Cup
The first category are the top-quality menstrual cups that are made to be purposely softer than average. For example, the Super Jennie, or the SckoonCup.
Both of these sanitary cups are made in the USA from top-quality medical grade silicone and many people that try them, love them. They have some excellent user ratings and reviews over on Amazon.
This work particularly well for people who tried a stiffer menstrual cup and found it pressed too strongly against their vaginal canal walls. In some cases, these stiffer menstrual cups even caused cramping or serious discomfort.
The Softest Menstrual Cups
The Second Category of Soft Period Cup
The second category of soft menstrual cups are the very cheap ones that are made in China. They are so soft because they are made from sub-par silicone that is certainly not medical grade.
The big problem with this is that these cups are so soft that they never really fully open when inserted into the vaginal canal. This means that they'll leak like crazy, and you'll end up getting a better quality cup later, or just switching back to tampons. Either way, it's better to just skip this step in the first place!
What about the Aneer Cup?
The Aneer menstrual cup fits into this second category. You can buy the Aneer Cup from the manufacturer for $0.25 a piece, which is way too cheap for medical-grade silicone. It's for this reason that we recommend giving the Aneer Cup a miss.
Are Cheap Menstrual Cups a Good Buy?
You may be tempted to save a bit of cash and buy a cheap menstrual cup. They are around half or even a third of the price of the most expensive cups.
However, we never recommend these cheaper cups for a few different reasons. However, the main ones are the quality of materials and manufacturing process. In both cases, there is usually little information about this. In contrast, the better-quality cups have full disclosure about this.
The cheap cups are made from silicone that is not medical grade. They are also made in China at unknown factories, with unknown quality control standards.
Think about it this way. You're putting a menstrual cup into your body for up to a week each month. Is it something that you want to skimp out on? It's certainly not a risk that we're willing to take.
Compare some Top-Quality Menstrual Cups
What about Toxic Shock Syndrome and the Aneer MoonCup?
You're probably aware of the risk of TSS that comes along with using tampons. That's why you need to change them frequently. But, is there a risk of Toxic Shock Syndrome when using the Aneer Cup, and is that risk higher than with tampons?
Let's talk numbers. Every year, there are hundreds of cases of TSS associated with tampons. When you consider the number of people that use tampons, however, the risk is not actually that high.
There is only one reported case of Toxic Shock Syndrome associated with a menstrual cup (the Diva Cup). It happened because the person cut themselves when inserting the cup at the beginning of their period, and then left the cup in for too long.
It's clear that the overall risk of TSS from feminine hygiene products is quite low, but that the risk from a menstrual cup is even lower than with tampons.
For both tampons and menstrual cups, be sure to take basic precautions such as changing them frequently enough, using a low absorbency for tampons, and washing your menstrual cup well with soap or menstrual cup wash every time you take it out.
What about Sex with the Aneer Period Cup?
A common question that people have is whether or not they can have sex while wearing the Aneer Cup. It's a great question, with an easy answer, no!
Let's qualify that a little bit. For anything up to penetrative sex, a traditional menstrual cup like the Aneer Cup makes a nice choice. This is because unlike with tampons, there are no strings hanging out. This means that your partner may not even know that you have your period.
But for penetrative sex? There just isn't room for everything up there! Plus, it'll likely feel very uncomfortable for both you, as well as your partner if you do try it.
Consider Soft Cups for Period Sex
If you like to have sex during your period, then we recommend Instead Soft Cups. They're flat, flexible discs that fit up under your cervix. This is unlike the Aneer Cup, which sits low in the vaginal canal.
The only real negatives to Instead Soft Cups are that they're disposable, and also a bit difficult to insert and remove.
You can check out the Instead Soft Cup for yourself over on Amazon:

Instead Soft Cup Review
Is the Aneer Menstrual Cup a Good Choice for Beginners?
If you're new to menstrual cups, you'll probably want to know whether or not the Aneer Cup makes a good choice for beginners.
In general, we recommend a firmer menstrual cup for your first cup. Because the Aneer menstrual cup is so soft, you might find it difficult to insert, and to get it to seal.
Consider a Firmer Menstrual Cup if you're a Beginner
The firmer menstrual cups will just pop open pretty easily with minimal hassle or fuss.
One of the best menstrual cups for beginners is the Lena Cup. It's a little bit firmer than average, but the vast majority of people find that it's comfortable, and they can't even feel it inside of them.
The Lena Menstrual Cup also has a nice design, and it fits well, and doesn't leak. Over on Amazon, the Lena Cup has some of the highest ratings in the category. People really seem to love it!
You can check out the Lena Cup for yourself:

Can I Use the Aneer Cup with an IUD?
A common question that people have is whether or not they can use the Aneer Mooncup with an IUD. We couldn't find any information from the company about this specific question.
However, there is some general advice about menstrual cups and IUD's that applies to the Aneer Cup as well. Of course, check with a medical professional because every situation is different.
There should be space between the Aneer Mooncup and your IUD. This means that you may have to trim the stem on the menstrual cup.
If you have a very low cervix, these two products may not be compatible. Check with your doctor.
Get your doctor to trim the strings on your IUD as short as possible.
Check the strings on your IUD frequently. If they've changed positions, check with your doctor.
Be sure to break the suction seal on the Aneer Menstrual Cup before removing it. Do this by squeezing in at the base with two fingers.
DO NOT pull out a menstrual cup by the stem alone. This creates a suction vacuum and is an easy way to dislodge your IUD.
The Takeaway on the Aneer Menstrual Cup
We most certainly don't recommend the Aneer Cup. It's very, very cheaply made from sub-par materials in China. For something that you're going to be putting into your body, you really should consider getting something made from medical-grade materials.
Even if you don't care about that, it's so soft that it doesn't work that well because it's very difficult to get it to fully open when inside. This means that it leaks like crazy for most people.
If you must, you can check out the Aneer Cup for yourself on Amazon:

Find the Best Menstrual Cup
Instead, why not consider a better-quality menstrual cup? You can check out our menstrual cup quiz for help in finding the perfect one for your body type.
5 simple question. 1 minute of your time. A recommendation for the best menstrual cup.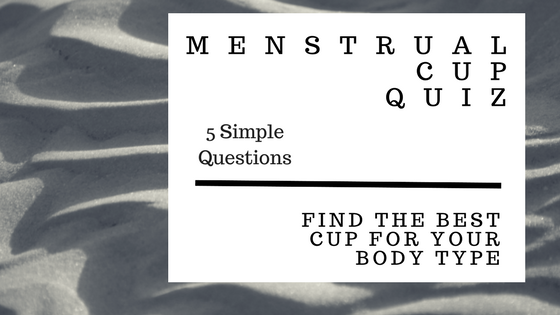 Aneer Menstrual Cup: Have your Say!
What are your thoughts about the Aneer Cup? Do you think cheap menstrual cups from China are a good value?
Or, are you sticking with the higher-quality, but more expensive cups made in North America or Europe.
Leave a comment below and let us know your thoughts.
Last update on 2021-04-17 / Affiliate links / Images from Amazon Product Advertising API