We knew it was only a matter of time before the makers of disposable feminine hygiene products got into the reusable game. It appears that Tampax, makers of one of the most popular tampon brands in the world are the first with the Tampax menstrual cup.
It's a bit surprising that they didn't brand this cup with another name. Tampax is associated so strongly with tampons that it seems strange to associate this with a menstrual cup.
But, let's get to our full review of the Tampax Menstrual Cup to see what it's all about and whether or not it's right for you, and your budget (it's expensive!). Read on!
—>Learn more about the Tampax Cup on Amazon<—
Tampax Cup Introduction
Here are a few quick facts about the Tampax Menstrual Cup:
Made by Tampax, the makers of the popular tampon brand
Co-designed with a female OB-GYN
It's clear that they've put a lot of thought and resources into designing it
Soft curve that reduces pressure on your bladder
Made from 100% medical grade silicone
Sizing based on flow (light or heavy)
Even the small cup has a very large diameter
Slightly shorter than average length
V-shape (as opposed to a U-shape like most other cups)
More expensive than most other ones
Includes a hard carrying case, unlike most other ones with a cloth bag
Is it worth it? Keep on reading to find out! Or, check it out for yourself over on Amazon:

Tampax Menstrual Cup Review
Okay, so let's get straight into what you're here for: our opinion of this new menstrual cup from Tampax. Is it a winner, and should you consider buying it?
While it's well-designed (they've paid attention to the small details) and made of top-quality materials, there are a few big concerns that we have with it, including sizing recommendation, large diameter, what's included in the package, and motivations.
Sale
Sizing Recommendation
The first issue that we have with this period cup is the recommendation for who should use the small, and large size. They recommend the small for someone with a light flow, and the large for a heavy flow. We HATE recommendations based on this. Why companies do this, we're honestly not sure.
We find that the smaller cups work better for:
Younger women
Those who haven't given birth vaginally
The larger cups are for older women and those who have given birth.
Another way to recommend cups is based on cervix height and this can work quite well. Shorter cups for a low cervix, and longer cups for a higher cervix.
See the next section for more details about the specific sizing of this cup.
Large Diameter
The second issue we have with the Tampax Cup is the sizing, and in particular the very large diameter. The small is 47 mm, while the large is 53 mm.
47 mm is comparable to the largest cups on the market today and certainly won't be suitable for teenagers or those who haven't given vaginally. Since this is the smallest menstrual cup they offer, it leaves a lot of women out.
They recommend it for women with a light flow, but we have a feeling that there is going to be a lot of unhappy users who go with this recommendation.
What's Included in the Package
As of late 2018, they are including a box of Always disposable pantyliners along with their period cup. Most women try a cup because they're looking for a cheaper, or more environmentally friendly period experience.
Including a box of disposable pantyliners certainly defeats the purpose of this. Why not include a reusable panty-liner instead? We couldn't help but shaking out head at this. It's almost liked Tampax entirely missed the point.
In the starter kit which includes both small and large menstrual cups, there is a small package of Always wipes. These can be quite convenient for keeping your cup clean when you're on the go.
However, we don't love that they're scented, perpetuating the myth that menstruation is dirty or smelly. The product description says that they can help you feel "fresh," but it's not like menstruation leaves you "unfresh" anyway.
Motivations
Okay, so it's not like the Diva Cup, Lunette Cup, or the Lena Cup aren't in it to make money. After all, they want to sell their products, make money for the owners and not go out of business! What's the difference between them, and Proctor & Gamble, the big conglomerate behind the Tampax Cup?
Motivation. These companies that have been making them for years, and in addition to money, seem to be motivated to actually make a difference in women's lives by offering them a cheaper, environmentally friendly and safer alternative to tampons.
P & G? Our guess is that they are just looking to capitalize on the popularity of reusable period products in the last few years. Do they care about your health? It's uncertain. They most certainly don't care about your bank account balance; this cup is one of the most expensive ones out there.
However, they have designed a cup that is safe to use, and should work well for a lot of people. It's obvious they've put a lot of thought and care into the design of it, so that's why we're so conflicted about it.
It's also important to keep in mind that there is no one single cup for everyone. This one might work for you, but it might not work for someone else.
Research and Development
It's evident that the company did put lots of care and thought into designing the Tampax Cup. They did the following:
Consumer use tests
Clinical tests
MRI imaging
Real-life tests
Length and width based on scientific data
Their goal was to understand how the smallest of details could impact the overall experience for women. For such a big company, we'd expect no less!
Tampax Menstrual Cup Sizing
There are two sizes, small and large. The small version is for people with a light flow, while the large is for those with a heavier flow.
Tampax Cup (Small)
Length: 65 mm
Diameter: 47 mm
Capacity: 24 ml
Tampax Cup (Large)
Length: 65 mm
Diameter: 53 mm
Capacity: 37 ml
Some Sizing Observations
In terms of sizing and design, there are a few unique things about this period cup.
Length
In terms of length, both the small and large come in at 65 mm.
This can work very well if you have a low-cervix because it's slightly shorter than average cups like the Diva Cup at 70 mm.
However, if you have a high cervix, then you might find it quite difficult to remove. To remove a cup, you should pinch the base with two fingers and squeeze in to break the suction seal. If you can't reach the base, you can pull down gently on the stem until you can.
The problem with a short cup and a high cervix is that you may find it quite difficult to even reach the stem.
Trimming the Stem
If you find that either the small, or large is too long for you, you can trim the stem. Do this only when it's not inside you! And, start small and cut off just a little bit. Some stem on it can be quite helpful for removal.
Once you cut a little bit off, put it back in to test and see if it'll work better for you.
Diameter
There are very few menstrual cups that have a diameter of more than 47 mm (check out this comparison chart for more details).
At 47 mm (small) and 53 mm (large), the Tampax Cup is a very large cup.
While the company recommends the smaller one for people with a light flow, it may actually be too big.
We generally prefer to recommend a menstrual cup based on whether or not you've given birth vaginally. If you have, stick with a smaller cup with a diameter of 40-41 mm or even less. If you have, then go with a bigger one, perhaps 45+ mm.
Recommend this large of a menstrual cup based entirely on a light flow may result in plenty of unsatisfied customers! We suspect that once you start to see more customer reviews on Amazon for this product, many of the negative ones will be related to this.
Capacity
The small one, at 24 ml has a below average capactity, while the larger one at 37 ml is above average. The large is actually one of the higher capacity cups and could work well for you if you have a heavy period.
Firmness
In terms of firmness, it's slightly above average. We'd compare it to the Lena Cup or the Lunette Cup.
This means that you should be able to get it to open quite easily. You just have to fold the cup, place it into your vagina and then it'll pop open and into place.
However, the downside to these slightly firmer menstrual cups is that they can sometimes push strongly against your vaginal canal walls and even cause cramps or other discomfort. Tampax seems to have taken this into account with their "soft curve" that's designed to be very comfortable.
Where to buy it?
We suspect that you'll soon be able to find the Tampax Menstrual Cup in stores everywhere. However, for now, you can check it out over on Amazon:

Pros:
Can work well for people with a low-medium cervix height.
Well designed (but see below for some dubious sizing recommendations), with a softcurve shape.
The large has a very high capacity for people with a heavy flow
Designed by a female doctor
They're designed the cup themselves, instead of just buying out another company, or putting their name on a generic one
Made in the USA
Free from BPA, dyes, or latex
As far as comfort goes, it shouldn't be an issue. It looks to be very well-designed.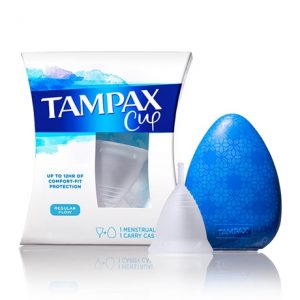 Cons:

The company recommends the small for people with a light flow. However, with a diameter of 47 mm, this is as large as some of the biggest ones out there. We'd only suggest if it you've given birth vaginally. Otherwise, stick with a smaller cup (find one here).
Made by a company that makes non-organic tampons which aren't great for your body, or the environment.
They've included disposable pantyliner along with it, which kind of defeats the environmentally friendly benefits of using it!
Currently (March 2019) one of the most expensive ones.
How to Use It
A common question that beginners have is how to use it! There are a few simple steps you can follow to get up and running.
The thing to keep in mind about period cups is that there's a serious learning curve to using them. It takes most people at least 3-4 cycles to really feel confident with one. Here are some tips to help you out:
Make sure to wash your hands before handling it (inserting or removing it). This helps to prevent things like yeast infections, or Toxic Shock Syndrome.
Fold your cup (there are various fold options that you can try) and insert it into your vagina. Point it back and down towards your tailbone, and not up towards the sky. It's designed to sit low, just so that the stem isn't sticking out. Don't push it way in there.
Because the Tampax Period Cup is quite stiff, it should just pop open pretty easily.
If it doesn't open, twist and turn it until it does. Or, take it out and try another fold.
It should fit comfortably and most people aren't able to feel it once inside of them.
After 12 hours (or sooner if it's full and starts leaking), take it out by squeezing in with two fingers at the base to break the suction seal and then pull it out. Pull down gently on the stem if you can't reach the base.
Wash the cup (more details here: Menstrual Cup Cleaning 101) and reinsert it.
At the end of your cycle, boil you cup in a pot of water on the stove for five minutes to sterilize it and then store it in the case that comes with it.
You can learn more here: Menstrual Cup Tips and Tricks.
How Often to Replace It?
There is very little information on the website about this period cup. However, most people find that cups made from top-quality silicone can last for around five years, and some even use them for as long as 10.
That said, the Diva Cup recommends replacing their cup every 1-2 years as a safety precaution. In reality, this probably isn't necessary, but it's actually up to you.
You should certainly buy another one if you notice any rips or tears in it. Or, if you notice a change in the material, such as it becoming more sticky or oily.
Discolouration isn't a reason to replace a menstrual cup and most people don't really worry too much about this.
In order to maximize the lifespan of it, you'll need to take care of it. Wash it well during your cycle with a special wash, or mild soap. Rinse it off well before putting it back in. Always wash your hands before handling it. You can boil it in a pot of water on the stove for five minutes at the end of your cycle to sterilize it.
Finally, and most importantly, NEVER store your Tampax Cup in an airtight container because this breeds bacteria like nothing else. Put it in the case that came with it. Or, wrap it loosely in a dry paper towel.
My Menstrual Cup is Leaking!
If you find that your Tampax Cup is leaking, there are a few things you can try.
The key is to get a good seal to the walls of your vagina. In order to do this, the cup needs to fully open. If it doesn't when you insert it, jiggle, or twist it until it does. You can also take it out and try another fold.
Your cup may be full and overflowing. This is likely the case if it didn't leak for hours, but it is now. Take it out, empty the menstrual fluid into the toilet, clean it and then put it back in.
Point the cup back and down towards your tailbone, and not up towards the sky when you put it in. This will help to ensure that it's under your cervix, and not in front of, or behind it.
Finally, if none of those things work, you may have the wrong cup size. Try a small, instead of large, or vice-versa. You could also try another brand. For help with that, you can take this quiz:
What about Sex with the Tampax Cup?
A common question that people have is whether or not they can have while using something like this menstrual cup. The cheeky answer is that it depends!
For anything up to penetrative sex, it works very well and your partner may not even know that you have your period. However, for penetrative sex, it won't work that well. It's too big, firm and sits low in the vaginal canal.
People have certainly tried to have sex while using traditional menstrual cups, and neither they, nor their partner liked the results!
Consider the Ziggy Cup Instead
If you're looking to go eco-friendly for your non-messy period sex, then consider the Intimina Ziggy Cup. Like this cup from Tampax, it's also made from medical grade silicone and can be used for years. What's different is that it's a flat, flexible disc that fits right below your cervix.
Check out our Ziggy Cup Review, or shop now:

Is there a Risk of Toxic Shock Syndrome with Menstrual Cups?
Tampons come with the risk of TSS, but does this new menstrual cup also have this risk, and is it higher or lower? Let's find out!
First of all, the risk from all products is quite is quite low. This is particularly true if you take basic precautions such as changing it frequently enough (8 hours maximum).
There are only a few thousand cases of TSS each year and many doctors go an entire lifetime without even seeing a case! Around half of them are caused by tampons.
Although there is a risk, in theory with menstrual cups, there's only been 1 case to date. As long as you remove your cup within the recommend time frame (or sooner if full) and clean it well, your risk should be quite low. Also don't use it if you cut yourself when inserting or removing it until you heal fully.
Can I use it Overnight?
The recommended length of time to use a menstrual cup is 12 hours. So, empty and clean it before you go to sleep, then sleep in and have a leisurely breakfast. After that, worry about your period. Kind of awesome, right?
What about using an IUD with the Tampax Cup?
We were unable to find any official information on their website about using the Tampax Cup along with an IUD. However, we can give you some general tips about using these two things together.
Check in with a medical professional before using these two things together. It may, or may not work for you depending on your unique situation.
The key is to have some space between the strings of your IUD and your cervix. If you have a low cervix, this might be quite difficult and these things may not be compatible for you, or you may need to try using one of the shortest menstrual cups.
Be extra careful when removing your cup. Be sure to break the suction seal by squeezing in on the sides with two fingers. DO NOT pull it out entirely by the stem alone.
Check the location of the strings periodically to make sure they haven't changed position.
You can learn more about this here: Using a Menstrual Cup with an IUD.
Can I use it for Travel or Outdoor Activities?
If you're planning on traveling, or doing something like backpacking or hiking, you'll maybe want to know whether or not the Tampax Period Cup is right for you.
It actually makes an excellent choice and is better than tampons, in our opinion. It's mostly due to the higher capacity (3-4x that of tampons). This makes it a nice choice for that long plane or bus ride. Or, running a marathon or hiking all day.
Another reason we love it is because you don't have to worry about creating waste. You can just dump the contents into a public toilet, wash and then reinsert it. Or, make a small hole in the wilderness to pour the fluid into.
Finally, you don't have to worry about running out and not having your favourite brand of tampons available. All you need is one single cup to deal with your whole period.
Don't Forget to Use Potable Water
The important thing to keep in mind in both these cases is to use only water that's safe for drinking. If you don't, you may introduce all sorts of nasty bacteria into your vagina, leading to some unwanted side effects.
The Takeaway on the Tampax Cup
We're a bit up in the air about a menstrual cup that's made by a company who mainly sells disposable (non-organic!) period products. With their cup, they include a free trial of Always DISPOSABLE pantyliners.
It's almost like they've entirely missed the point as to why you might want to switch to a menstrual cup (cheaper and better for the environment). Why not include a reusable pantyliner instead?
Love it or Hate it? We're not Sure
We're seriously conflicted and we're not sure whether we should love it, or hate it. You'd best decide for yourself!
On the one hand, it's nice to see a company with some serious distribution power get into the menstrual cup world because they have the potential to bring them to the masses. You might soon see it in every single tampon aisle in the world.
On the other hand, it's very expensive, and perhaps more than it should be! It's also made by someone who doesn't exactly have women's health at the forefront.
There are Better Cups out There
If you're looking for your first, or next menstrual cup, you should probably give this one a miss. It's expensive, coming in at about $10 more than the next most expensive cups on the market.
We much prefer recommending cheaper products that are made by companies who focus exclusively on reusable, eco-friendly period products. You can see some of our top recommendations here:
Of course, you're free to choose the one that'll work best for your body type.
Small May be too Large
It also works best for people who've given birth vaginally, but perhaps not many other people. As of the time of writing, there were very, very few reviews anywhere online, which could give us more information about this. We'll come back and update this article in a few months after seeing what people are saying.
Maybe it's Right for You?
Does it sound like the Tampax Cup is right for you? It certainly might be if you're looking for a higher capacity menstrual cup that's a bit shorter than average. AND, if you've given birth vaginally due to the very large diameter of even the small one.
You can check it out for yourself over on Amazon:

Why Consider Menstrual Cups Over Tampons?
Around 98% of people use disposable tampons and pads and are presumably reasonably happy with them. Why make the switch to a period cup? It's illuminating that of all the people who try a cup, 91% of them stick with it for the rest of their lives. Here are a few of the reasons why you might consider it.
Better for the Environment
During a lifetime, the average woman uses more than 10,000 tampons. It's even more with a heavy, and/or irregular period. Even the ones without an applicator come wrapped in little bits of plastic. Far worse? The ones with plastic applicators.
Health Considerations
Here's something that many people don't know. It's that many of the leading brands of tampons contain trace amounts of toxic chemicals in them. They come from the chemicals used to bleach them, as well as the pesticide used to grow the cotton.
Exposure to even small amounts of this stuff can have adverse health effects. Just say no to toxins by switching to a healthier option.
Save Money, and Lots of It
Although the Tampax Cup is one of the more expensive menstrual cups you can buy, you'll still save thousands of dollars over a lifetime.
Remember those 10,000+ tampons? They will add up to more than $2000 USD. Just a handful of cups over that same period of time is around 10x cheaper.
Better for a Heavy Flow
Normal tampons hold around 5 ml of fluid, while jumbo ones can hold around 10 ml. If you have a heavy period, you may find that you have to change it out every couple of hours. By switching to a sanitary cup, you'll have 3-4x the capacity.
Yes, this means you might be able to go the entire day at work or school without dealing with your period. Or, the entire night of your heaviest flow, if you combine it with an overnight pad.
Sports and Outdoor Activities
If you play sports, you're going to love the higher capacity of it. Run that marathon, or go on that long bike ride and don't worry about dealing with your period.
Or, if you like backpacking, or camping, try out a menstrual cup for a no-waste solution to your monthly cycle.
Tampax Cup: Have your Say!
What are your thoughts about this one? Do you have any questions? We'd love to answer them!
Leave a comment below and let us know. And also be sure to share this on Facebook, Twitter, or Pinterest.
Last update on 2021-04-17 / Affiliate links / Images from Amazon Product Advertising API